Mastering EIFS Restoration: A Comprehensive Guide to Overcoming Challenges and Achieving Excellence in EIMA Compliance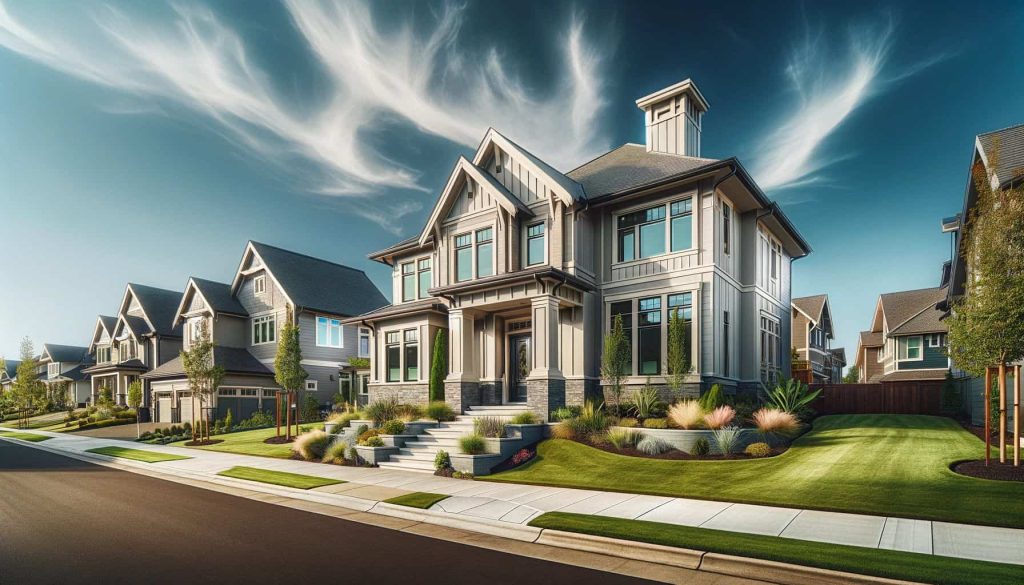 Introduction
Adhering to EIFS Industry Members Association (EIMA) standards is critical for the successful restoration of Exterior Insulation and Finish Systems (EIFS). As the leading authority on EIFS applications, EIMA establishes rigorous criteria and best practices for installation, inspection, and repair that aim to maximize performance and longevity.
Neglecting these published standards can compromise the integrity of the cladding system, lead to premature failures, and put properties at risk. Common pitfalls like inadequate flashing, improper sealants, or insufficient reinforcement are often traced back to a disregard for EIMA guidelines.
Following EIMA standards provides quality assurance and risk mitigation for all stakeholders. It equips EIFS contractors with the technical details necessary for enduring envelope solutions. For facility owners and property managers, adherence certifies resilience to fire, water, seismic, wind, and other forces over decades. Architects, builders, and inspectors also rely on these protocols to uphold safety and code compliance.
As leaders in EIFS restoration throughout the state of Indiana, Indian Wall Systems stands behind EIMA criteria in all of our repair and installation services. We actively consult the latest editions of their manuals to strictly adhere to published wisdom. Our shop drawings, technical specifications, product selection, and application techniques align with these standards to deliver successful revitalization projects.
By leveraging EIMA as the authority for best practices, contractors and clients avoid critical missteps in restoring EIFS. Instead, they proactively navigate pitfalls to ensure correct detailing, superior durability, and protection of the building investment. This guide will explore the role of EIMA, available educational resources, proper testing procedures, and tips for realizing successful EIFS restorations that meet industry benchmarks.
| # | Key Takeaways |
| --- | --- |
| 1 | Strictly following EIMA manual specifications, testing procedures, and quality controls in EIFS installation and restoration optimizes facade performance, longevity, and code compliance. |
| 2 | EIMA standards assimilate decades of exhaustive R&D and field evaluations to perpetually advance EIFS materials and construction methods – adherence equates to proven, resilient building science. |
| 3 | Properly integrating adjacent envelope systems like roofing and fenestrations per published flashing details prevents compromising EIFS weather-tightness and moisture protection. |
| 4 | Rigorous third-party fire and water testing under simulated extreme conditions provides assurance on real-world EIFS performance for builders, architects, and owners. |
| 5 | Skirting EIMA conventions through gaps in moisture protection, insufficient reinforcement, inadequate substrate analysis or unqualified contractor selection risks systemic failures – whereas compliance navigates pitfalls. |
Understanding EIFS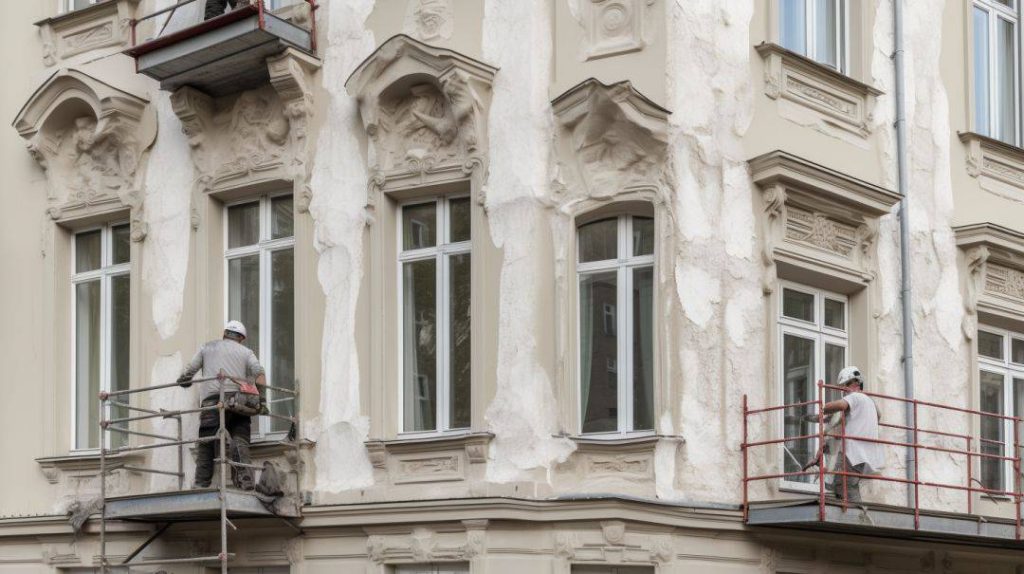 EIFS refers to Exterior Insulation and Finish Systems, a non-load bearing wall cladding that offers numerous benefits:
EIFS is a multi-layered exterior wall system comprised of:
Adhesive – bonds insulation to substrate
Insulation board – provides thermal protection
Base coat – embeds reinforcing mesh
Reinforcing mesh – strengthens base coat
Finish coat – final decorative and protective surface
Benefits of EIFS include:
Energy efficiency – Continuous insulation saves on heating and cooling costs
Aesthetics – Limitless finish options including textures and colors
Water resistance – Resists liquid water penetration
Durability – Long-lasting, low maintenance, impact-resistant
Sustainability – Made from recycled materials
Affordability – Lower cost than traditional stucco or masonry
Design flexibility – Accommodates curves, angles, detailing
Lightweight – Reduces structural demands compared to masonry
With proper design, detailing, installation, and maintenance, EIFS delivers exceptional performance and curb appeal over decades. Strict adherence to EIMA's latest published standards ensures EIFS solutions stand the test of time.
Understanding the components, benefits, and best practices around EIFS empowers architects, contractors, and property owners to specify resilient and attractive envelope systems.
Importance of EIMA Standards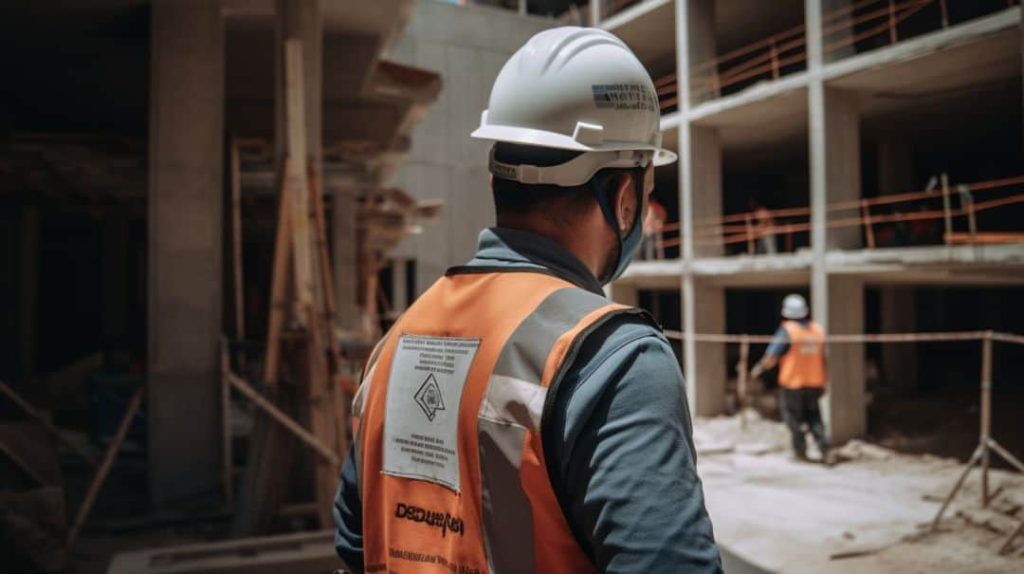 The Exterior Insulation and Finish Systems Industry Members Association (EIMA) serves a vital function in congregating collective knowledge into consensus criteria for EIFS design and application. As a non-profit trade association, EIMA unites leading manufacturers, suppliers, contractors, consultants, and other specialists to establish universal standards that represent the state-of-the-art.
Key activities of EIMA include:
Publishing – Manuals, technical bulletins, reports, and other publications capture industry best practices
Advocacy – Campaigning for building code recognition and equitable insurance underwriting
Research – Funding studies by accredited laboratories to advance the technology
Education – Workshops, seminars, and online training on proper EIFS installation
Consultation – Providing support services for members on technical matters
Certification – Auditing EIFS inspectors and contractors to validate expertise
Benefits of following EIMA standards:
Risk mitigation – Avoiding systemic defects prevalent in the 80s/90s
Optimized performance – Realizing energy efficiency, air tightness and water shedding
Quality assurance – Correct detailing confirmed by stringent testing
Code compliance – Satisfying the latest model building code requirements
Warranties – Meeting material and system warranty stipulations
Enhanced durability – Building envelopes that stand the test of time
For EIFS designers, staying current with EIMA criteria equips you with the technical specifications to deliver resilient facade solutions. For contractors, adherence signals proficiency in modern materials and construction techniques to clients. For facility owners and property managers, compliance provides assurance cladding systems meet stringent standards.
As consensus documents, EIMA publications represent the most reliable design, installation and inspection protocols for EIFS construction. They assimilate extensive field testing and monitoring to perpetually advance the technology. Whether restoring existing EIFS or pursuing new applications, strict alignment with EIMA conventions helps realize success and prevent failures.
EIMA Bookstore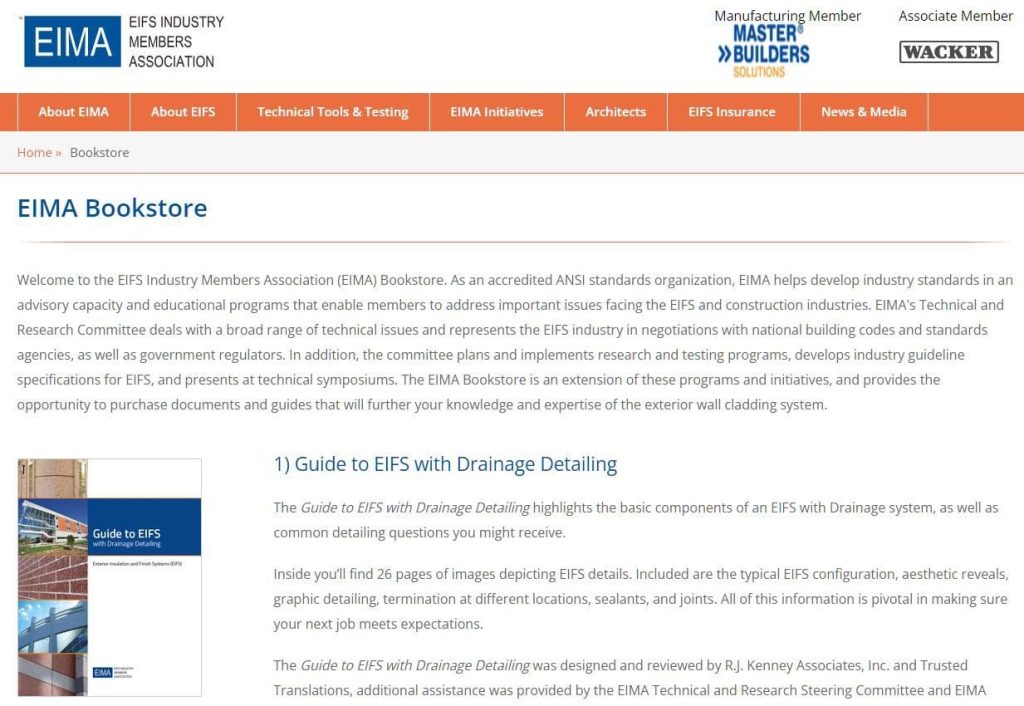 To comprehensively understand EIFS best practices and ensure strict adherence in your projects, direct access to EIMA's published standards proves invaluable. As a member-driven nonprofit association serving the EIFS industry, EIMA develops consensus documents capturing the latest materials, methods, test data, and collective wisdom. The bookstore makes these vital resources available for purchase by construction specialists and the public.
Key publications from the EIMA Bookstore include:
EIMA Standards Manual – The design, installation and inspection "bible" for EIFS with over 300 pages detailing every project phase
Tech Bulletins – Focused updates on specific materials, innovative methods, detailing nuances and system enhancements
EIFS Moisture Analysis Guide – Diagnostic frameworks and remediation recommendations for moisture anomalies
EIFS Inspection Guide – Methodical condition assessment protocols, checklists and reporting templates
EIFS for Commercial Buildings – Custom criteria for high-rise constructions and non-residential building considerations
EIFS Maintenance Guide – Regular care recommendations, cleaning advice and minor repair methodology
These comprehensively researched publications represent the collaborative input of leading EIFS authorities. They assimilate over three decades of testing data, field monitoring results, and forensic analysis from myriad climates and building archetypes. The development process solicits feedback from across the value chain.
For EIFS contractors, remaining fluent with the latest editions proves essential for precise specifications, accurate detailing, proper material selection and robust quality control. Broadcast familiarity with current EIMA protocols demonstrates discernment to clients and construction teams. Reference manuals on-site streamline troubleshooting.
For facility managers and owners, self-education on EIMA standards empowers effective decision-making. Understanding industry best practices aids in assessing contractor qualifications and proposals for restoration or new construction. It also equips diligent maintenance and rigorous inspection of existing EIFS.
Strict adherence to EIMA's published wisdom in all installation, repair, replacement and inspection activities helps optimize performance and mitigate risk. Both digital and hardcopy manuals are available from the EIMA Bookstore.
Fire and Water Testing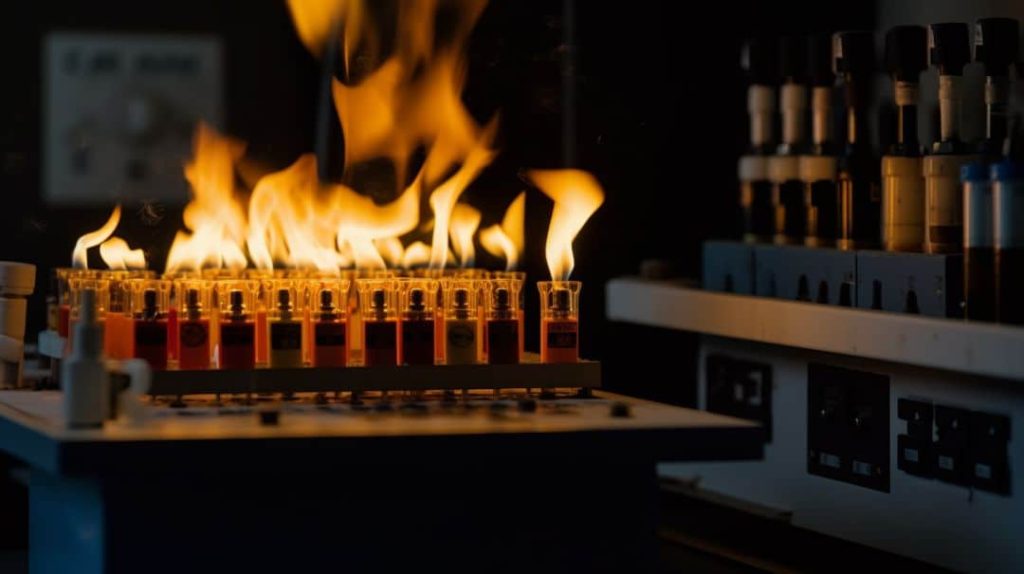 To validate resilience for code compliance and real-world conditions, EIFS materials and wall assemblies undergo rigorous third-party fire and water testing. Reviewing this pedigree aids appropriate product selection and provides assurance to builders, designers, and property owners.
Fire Testing Standards
As exterior facades, EIFS require fire testing and classification under UL 723 or NFPA 285. Criteria examined include:
Surface Burning – Flame spread and smoke developed per ASTM E84
Intermediate Multi-Story – Vertical flame propagation assessed via NFPA 285
Radiant Heat – Performance under severe heat flux meeting UL 723 or ASTM E119
Potential Heat – Chemical heat release analysis per NFPA 259
Fire Resistance – Duration of flame containment and temperature rise resistance meeting ASTM E119
The testing above evaluates flammability, heat transfer, structural response and fire containment performance under standardized fires. Reports certify the duration EIFS resist flames, remain intact, insulate underlying materials, and prevent structural collapse or internal temperature rise.
Water Infiltration Testing
As barriers to liquid water, EIFS also undergo stringent water infiltration assessments such as:
Water Penetration – Resistance to leakage under exterior pressure differentials per ASTM E331
Wind Driven Rain – Cyclic wind and rain bombardment testing to ICC-ES AC235 / ASTM E331
Freeze-Thaw – Thermal cycling while monitoring for leakage meeting ICC-ES AC235
Transverse Wind Loads – Structural loading during storms confirmed via ASTM E330
Weathering – Accelerated UV and moisture exposure testing per ASTM G53/G154
Successful testing here validates resistance to liquid water intrusion, sealing capacity despite gusting storm winds, freezing temperatures, structural movements, and durable protection across decades of weathering.
Reviewing the fire and water testing pedigree for any EIFS products chosen for restoration or new construction provides assurance on standards compliance and real-world performance. This data also affirms appropriate selection criteria for site conditions.
Meeting EIMA Standards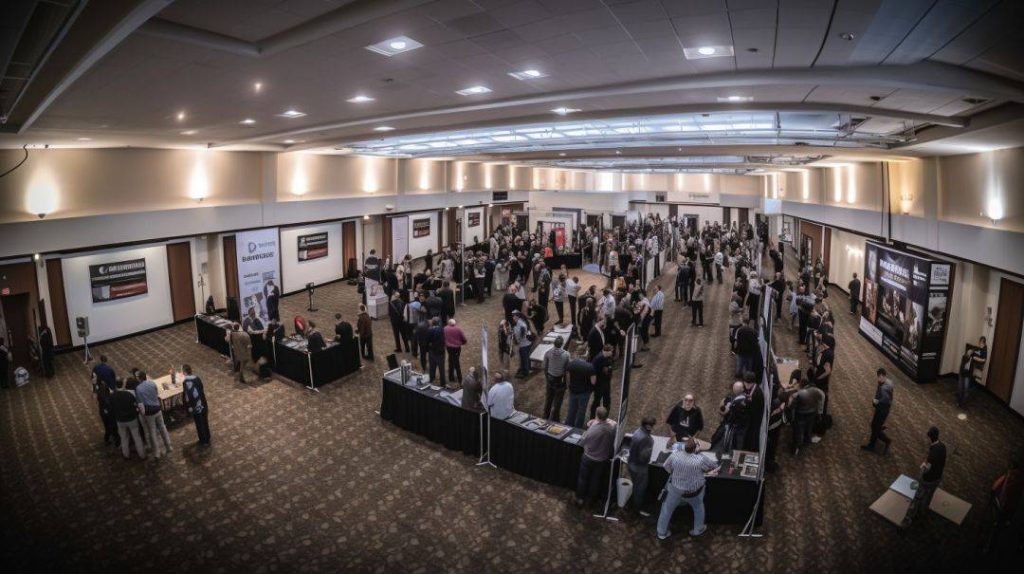 Realizing EIFS installations that meet EIMA performance criteria requires active collaboration across the construction value chain – from material manufacturers to distribution partners and installing contractors in the field. By participating in standards development and integrating protocols into business practices, stakeholders collectively uphold quality and best practices.
Role of EIFS Manufacturers
Reputable EIFS component suppliers conduct extensive R&D to engineer insulation boards, reinforcing meshes, finishes, sealants and accessories that deliver the durable performance and protective traits defined in EIMA manuals.
Compliance benchmarks as research priorities for manufacturers include:
Thermal resistance
Impact strength
Adhesive strengths
Accelerated weathering
Freeze-thaw cycling
Intermediate Multi-Story Fire evaluations
Manufacturers supply compliant systems to distribution partners and contractors. Many also proactively conduct trade training programs and publish technical literature to aid proper specification, detailing, and installation application in the field per EIMA protocols.
Role of EIFS Distributors
Stocking high-performance products vetted to meet EIMA criteria enables distributors to consultatively advise nuanced component selection based on regional climate and individual wall conditions. Many distributors also help shape new EIMA protocols by providing field data and user feedback to the trade organization. These firms further support awareness and integration of updated standards among their contractor network through education initiatives.
Role of EIFS Contractors
As direct stewards procuring components and actually deploying EIFS systems in the built environment, contractors play an integral role in perpetually upholding EIMA manuals as living industry standards.
Beyond participating in trade training on evolving best practices, leading firms proactively integrate EIMA protocols into shop drawing checklists, site quality controls, and installer education programs. This ensures firm-wide adoption of published techniques. Contractors also provide ongoing user feedback to distributors and manufacturers regarding real-world product performance to further advance standards.
By fostering universal EIMA protocols across the supply chain, manufacturers enable distribution partners and empower contractors to consistently exceed benchmarks project to project across states. This proactive collaboration maintains market maturity and product integrity from raw material engineering to finished building envelopes.
Navigating Potential Pitfalls in EIFS Restoration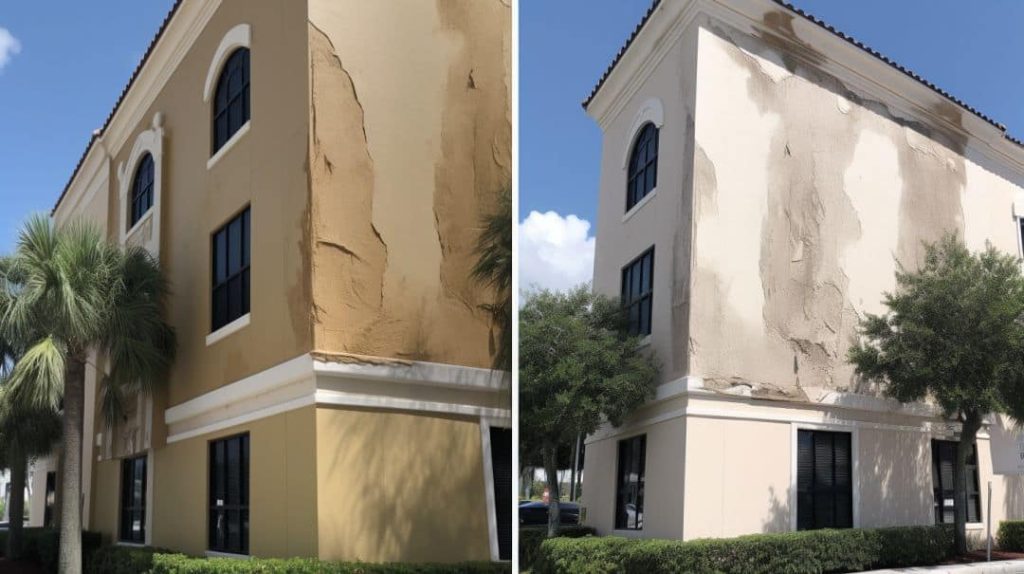 While delivering significant benefits, restoring existing EIFS cladding introduces risks if rigorous protocols detailed by EIMA are not met at every project stage. From defective moisture protection to inadequate flashing around openings, sloppy detailing precipitates aesthetic and performance compromises over time.
Common Pitfalls and Defects in EIFS Restoration
Premature Failure of Adhesives and Base Coats – Insufficient bonding leads to delamination or system disconnects
Water Intrusion Issues – Inadequate flashing, leaks around fenestrations, and moisture drive compromises integrity
Reinforcement Gaps or Voids – Insufficient mesh overlap enables cracks and material failures
Constructability Hotspots – Integration flaws around windows, lighting fixtures, railings, and other penetrations
Underlying Moisture Problems or Decay – Water damage or substrate degradation causes debonding and system failure if not addressed before recladding
Omission of Properly Positioned Joints – Inadequate allowance for differential movement leads to stress cracks
Excessive Added Weight – Supporting structures are compromised by overlaying heavy facade materials
Incompatible Substrates – Direct adhesion to concrete, masonry or dissimilar surfaces causes bond failure
Many premature EIFS failures that damage aesthetics, and energy efficiency, and necessitate costly replacement trace back to lapses in published best practices during installation or restoration. Strictly adhering to EIMA techniques at all stages allows for avoiding pitfalls.
Mitigating Risks by Rigorously Following EIMA Standards
EIMA manuals provide construction teams with rigorous specifications, testing procedures, quality controls, and troubleshooting advice across every project phase:
Moisture – Remediation, drainage provisions, drying analysis, vapor retarders
Flashing – Compartmentalization, corrosion-proof terminations, end dams, pan flashings over openings
Substrates – Verifying integrity and suitable conditions before recladding
Reinforcement – Base coat formulas, mesh orientation, total embedment parameters
Sealants – Movement accommodation, perimeter bonds, flexible joints, sequencing
Appurtenances – Window interfaces, lighting fixtures, equipment rails, signage
Commissioning – Multi-stage mockup testing verifies quality before enclosure
Following these meticulous conventions gleaned from decades of monitoring Avoiding pitfalls realizes restored facades with lasting durability meeting energy codes.
National Roofing Contractors Association and SMACNA Standards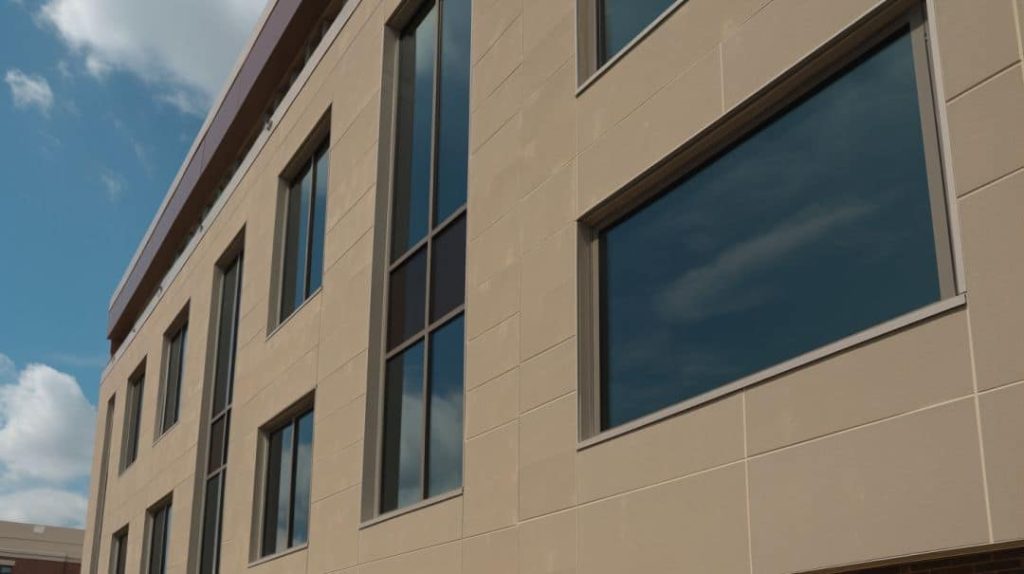 While the Exterior Insulation and Finish Systems Industry Members Association (EIMA) governs best practices specifically for wall systems, adjacent building components still impact EIFS weather-tightness and moisture management. Proper integration and flashing with adjoining roofs, moisture barriers, and fenestrations prevent compromising facade performance.
Industry groups like the National Roofing Contractors Association (NRCA) and Sheet Metal and Air Conditioning Contractors National Association (SMACNA) publish complementary moisture protection details for roof-wall and wall-window interfaces.
Rigorously following NRCA and SMACNA convolution standards ensures:
Correct design and sizing of roof flashings, cricket transitions, and integrated reglets where roofing systems intersect walls
Appropriate alignment to through-wall flashing on building wrap or other wall moisture barriers
Precise integration of thru-wall flashing below windows, doors, pipe penetrations and all other wall openings
Adequate allowance for differential structural movement between dissimilar materials through properly positioned slip joints
End dams, backer rods, and compartmentalization to direct bulk water flows away from openings
Specific Points of Integration:
Roof Crickets – Slope transition details to divert water from sloped roof and wall junctions
Reglets – Horizontal receptacles accepting counterflashing to secure roof flashings
Through-Wall Flashing – Continuous moisture protection layer aligned with window and door rough openings
Penetration Flashing – Waterproofing sleeve details for pipe and conduit outlets
Control Joints – Allowances for expansion and contraction through backer rod and sealant-filled joints between wall sections
While the EIFS scope focuses on the exterior wall itself, employing compatible roofing and fenestration flashing conventions promotes holistic weather-tightness and moisture safety across the entire building envelope to prevent water damage or deterioration. Consulting NRCA and SMACNA resources helps facilitate this integration while meeting prevailing codes.
Adhering to published standards across all trades enables resilient, protective details in restoration and new construction projects.
Climate Resiliency and Flood Risk Mitigation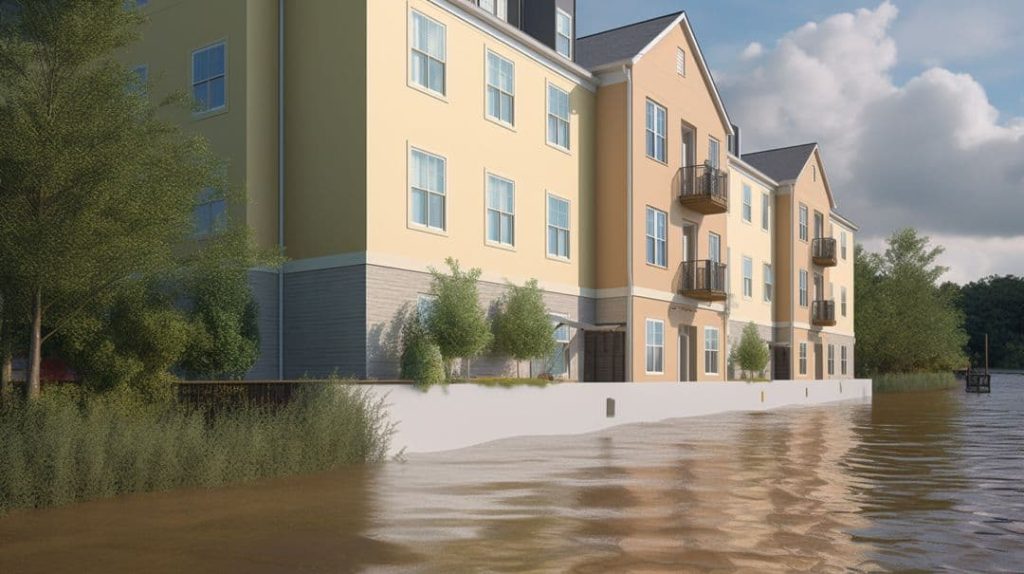 With climate change intensifying storms, flooding, hail, wildfires and other extreme weather perils, designing durable and disaster-resilient building envelopes grows increasingly important. Fortunately, advanced EIFS materials and robust design details allow for enhancing structural fortification, water resistance, and rapid recovery to meet the challenges ahead.
Enhancing Resiliency Through EIFS
High-wind load capacity with enhanced structural adhesives and supplemental mechanical fasteners
Uninterrupted insulation barriers that protect against hail damage even at highway velocities
Moisture-resistant facades that promote drying through vapor diffusion to prevent mold and deterioration
Rapid restoration is possible by replacing damaged finish coats over intact base wall system post-events
Flood barrier assemblies to protect habitable spaces to FEMA standards
Durable components that withstand high-velocity flying debris, seismic events, prolonged rain and extreme freeze-thaw cycles
Mitigating Flood Damage
Specific flood risk mitigation tactics include:
Permeable acrylic finishes that allow walls to breathe to dry out after inundation
Integrating flood barrier assemblies as a second line of defense with emergency deployability
Raising structures above base flood elevation levels
Implementation of other wet floodproofing tactics to facilitate intentional inundation without structural damage
Dry floodproofing for fully barricading water entry into structures through integrated shields
Green infrastructure that enhances landscape water absorption such as planter boxes, bioswales, and rain gardens
When designed and integrated following Resilient Building Codes and EIMA hurricane-prone environment standards, EIFS fortify the building envelope to meet increasing climate threats.
Conclusion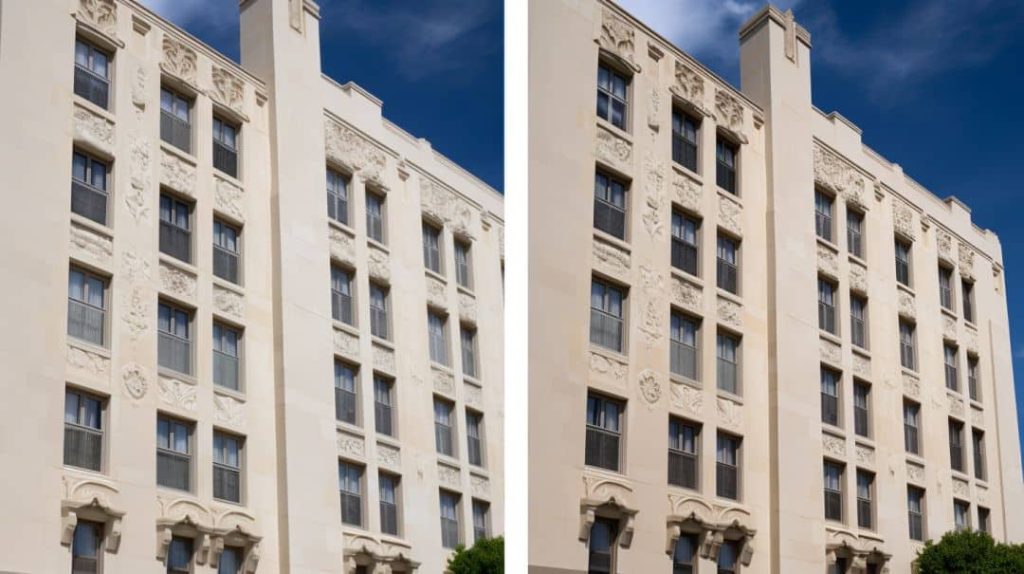 As detailed throughout this guide, strictly following EIMA standards in Exterior Insulation and Finish Systems restoration enables realizing high-performing, durable, and resilient building envelopes.
As the governing body that steers the advancement of EIFS technology through rigorous R&D, universal best practice publications, and collective industry participation – adhering to EIMA criteria optimizes quality, efficiency, and longevity. Their exhaustive manuals assimilate decades of real-world evaluations across climates and structures to perpetually improve installations.
EIMA protocols provide precise material specifications, design considerations, application techniques, quality assurance procedures and troubleshooting advice for the factors most vital to facade performance. Aspects covered include:
Moisture management
Substrate analysis
Structural engineering factors
Energy optimization
Constructability processes
Integration with adjacent building systems
Compliance equips EIFS contractors with exacting details to execute durable exterior solutions. For end customers, alignment assures a higher-quality finished product that meets code while providing lasting protection of the wall system and underlying building. Architects, builders and inspectors also heavily rely on EIMA standards to uphold safety and integrity over decades.
While voluntary, embracing EIMA's technical manuals as gospel enables navigating the potential pitfalls that commonly undermine EIFS restoration projects. Committing to published wisdom from the outset prevents deficient work necessitating expensive remediation down the road. The upfront rigor perpetually pays dividends through superior cladding functionality, lifecycle value, and peace of mind.
Why Choose Indiana Wall Systems?
With four decades of exterior insulation facade experience across Indiana, Indiana Wall Systems offers fully customized EIFS solutions upholding rigorous EIMA standards at every phase.
As trusted EIFS specialists, we deliver:
EIMA-Certified Inspections – Our EIFS inspectors identify hidden moisture issues and damage not visible to the naked eye during comprehensive assessments. We evaluate structural attachments, finishes, sealants, reinforcement zones, and below-grade waterproofing per strict conventions.
EIMA-Aligned Installations – Our precise construction process adheres to published specifications for substrate verification, mechanical fasteners, adhesive selection by wall type, base coat formulas, mesh orientation, and seamless integration of adjacent building systems.
EIMA-Compliant Restoration – From correctly diagnosing deficiencies and remediating underlying issues to full tear-offs and replacement, our repair methodology follows manuals to optimize longevity.
Indiana Wall Systems maintains intimate expertise in the latest materials, design considerations, testing procedures, quality controls, and troubleshooting to continually meet and exceed EIMA benchmarks. Contact us today at (765) 341-6020 to discuss restoring your property's EIFS to strict performance standards.
FAQs
What role does EIMA play in the EIFS industry?
As the EIFS Industry Members Association, EIMA develops rigorous quality standards, education programs, and materials specifications to perpetually advance best practices for durable, efficient insulating cladding systems.
How do I know my restoration contractor follows EIMA guidelines?
Reputable contractors integrate EIMA protocols into every project phase from inspection and diagnostics to repair methodology and quality controls. Verify EIMA certifications and ask for shop drawings referencing their manuals.
Why shouldn't I overlook fire and water testing data before choosing EIFS products?
Reviewing third-party test reports validates real-world performance by quantifying heat resistance, structural response, water penetration resistance, and durability so products chosen meet project needs.
What are the risks of improperly integrating EIFS walls with roofing components?
Lack of adequate flashing, drainage provisions, and allowance for building movements at roof-wall or fenestration-wall junctions precipitates leaks causing hidden decay issues or cladding failures over time.
How can following EIMA advice help homes withstand climate change impacts?
Specifications for enhanced structural connections, robust water barriers, vapor permeability, resilient adhesives, and durable finishes allow EIFS to enhance disaster resistance while enabling rapid, economical restoration post-extreme weather events.