Bloomington Indiana - EIFS Contractor
The Premier EIFS Contractor Serving Bloomington, Indiana
Why Choose Indiana Wall Systems for Your EIFS Needs in Bloomington?
Indiana Wall Systems stands out as the leading EIFS repair, installation, and construction contractor in Bloomington, Indiana. With a team of highly skilled professionals and a commitment to customer satisfaction, they consistently outperform their competitors. Discover the reasons why Indiana Wall Systems is the go-to choice for EIFS services in Bloomington.
Expertise and Experience
Highly Skilled Professionals Indiana Wall Systems boasts a team of experienced and certified EIFS professionals who are dedicated to delivering top-notch workmanship. Their extensive training and hands-on experience ensure that your EIFS project will be handled with the utmost care and expertise.
Proven Track Record With a long history of successful projects in Bloomington and the surrounding areas, Indiana Wall Systems has built a solid reputation for quality work and exceptional customer service. Their portfolio of satisfied clients speaks volumes about their commitment to excellence.
Comprehensive EIFS Services
Repair and Maintenance Indiana Wall Systems specializes in EIFS repair and maintenance, helping to extend the life of your system and maintain its efficiency. Their skilled team is capable of addressing a wide range of issues, from cracks and water damage to routine maintenance.
Installation and Construction As experts in EIFS installation and construction, Indiana Wall Systems can handle projects of all sizes, from small Bloomington residential applications to large Bloomington commercial buildings. Their attention to detail and adherence to industry best practices ensure a high-quality result that stands the test of time.
Bloomington Customer Satisfaction
Personalized Solutions Indiana Wall Systems takes the time to understand each client's unique needs and preferences, tailoring their approach to provide personalized solutions. This focus on customization sets them apart from their competitors and ensures a seamless, satisfying experience for their clients.
Exceptional Support The team at Indiana Wall Systems is committed to providing outstanding support throughout every phase of your EIFS project. From the initial consultation to the final walkthrough, their experts are always available to address any concerns and ensure your complete satisfaction.
Contact by Online Form for a Free Estimate!
Choose Indiana Wall Systems for the Best EIFS Services in Bloomington

Indiana Wall Systems stands out as the premier EIFS contractor in Bloomington, Indiana, thanks to their skilled professionals, comprehensive services, and unwavering commitment to customer satisfaction. Choose Indiana Wall Systems for all your EIFS repair, installation, and construction needs, and experience the difference for yourself.
Commitment to Quality and Safety
Use of High-Quality Materials Indiana Wall Systems understands the importance of using high-quality materials for all EIFS projects. They source the best products in the industry, ensuring durability, energy efficiency, and long-lasting beauty for your property.
Strict Adherence to Safety Standards Safety is a top priority for Indiana Wall Systems in Bloomington. Their team adheres to strict safety standards and guidelines, ensuring that all EIFS projects are completed with the highest level of care and professionalism.
Bloomington Eco-Friendly Solutions
Energy-Efficient EIFS Systems Indiana Wall Systems recognizes the importance of energy efficiency and sustainability. They specialize in installing EIFS systems that provide superior insulation, reducing energy consumption and lowering your utility bills.
Environmentally Conscious Practices The team at Indiana Wall Systems is dedicated to minimizing their environmental impact. They use eco-friendly materials and practices whenever possible, and they constantly strive to improve their processes to reduce waste and emissions.
Competitive Bloomington Pricing and Financing Options
Fair and Transparent Pricing Indiana Wall Systems is committed to providing competitive pricing for their EIFS services without compromising on quality. They offer transparent quotes with no hidden fees, ensuring you get the best value for your investment.
Flexible Financing Solutions To make EIFS projects more accessible, Indiana Wall Systems offers a variety of financing options to suit different budgets and financial situations. Their team will work with you to find a solution that meets your needs and helps you achieve your property improvement goals.
Trust Indiana Wall Systems for Unparalleled EIFS Services in Bloomington

Indiana Wall Systems' expertise, comprehensive services, commitment to customer satisfaction, and dedication to quality and safety make them the premier choice for EIFS services in Bloomington, Indiana. With eco-friendly solutions, competitive pricing, and flexible financing options, they truly stand out from the competition. Choose Indiana Wall Systems for all your EIFS repair, installation, and construction needs, and experience their exceptional service for yourself.
How can I get a quote for EIFS services from Indiana Wall Systems?
To obtain a quote for your Bloomington EIFS project, contact Indiana Wall Systems directly via contact form or by phone. Our team will be happy to discuss your needs and provide a detailed estimate.
A Guide to Bloomington Indiana
Located in the heart of Southern Indiana, Bloomington is a vibrant and diverse city known for its unique blend of natural beauty, rich culture, and friendly, welcoming atmosphere. Home to Indiana University, Bloomington boasts a thriving arts scene, an abundance of recreational opportunities, and a diverse culinary landscape. This guide aims to provide you with an in-depth look at the many facets of Bloomington, from its fascinating history to its top attractions and events.
Exploring the Indiana University Campus
As the heart and soul of Bloomington, the Indiana University (IU) campus is a must-visit destination for anyone who wants to experience the city's vibrant atmosphere. With its stunning architecture, beautiful landscaping, and diverse cultural offerings, the campus is a treasure trove of experiences waiting to be discovered. Some highlights include:
Indiana University Art Museum: A world-class institution, the IU Art Museum houses an impressive collection of artwork spanning a wide range of periods and styles.
Eskenazi Museum of Art: Another renowned art institution on campus, the Eskenazi Museum of Art features a diverse range of exhibits and offers a variety of educational programs and events.
Lilly Library: A haven for book lovers and researchers, the Lilly Library is home to an extensive collection of rare books, manuscripts, and historical documents.
Indiana University Cinema: Showcasing a diverse array of films, from classic movies to international cinema, the IU Cinema offers a unique cinematic experience in a state-of-the-art facility.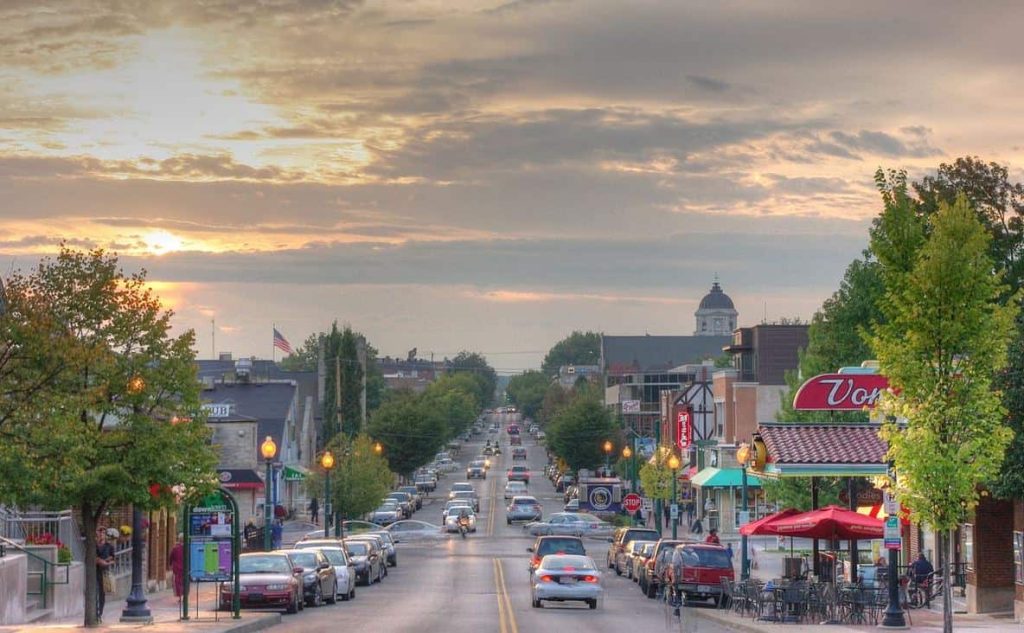 Founded in 1818, Bloomington has a rich history that is deeply intertwined with the growth and development of the state of Indiana. Originally a farming community, the town experienced rapid growth after the establishment of Indiana University in 1820. Over the years, the city has continued to evolve, embracing its role as a center for education, arts, and culture in the region.
Bloomington's Parks and Outdoor Attractions
With its rolling hills, lush forests, and picturesque lakes, Bloomington offers a wealth of outdoor recreational opportunities for residents and visitors alike. Some popular outdoor destinations include:
Griffy Lake Nature Preserve: A beautiful natural oasis, Griffy Lake Nature Preserve offers miles of hiking trails, canoeing and kayaking opportunities, and a peaceful setting for birdwatching and wildlife spotting.
Monroe Lake: The largest lake in Indiana, Monroe Lake is a popular destination for boating, fishing, swimming, and camping.
Leonard Springs Nature Park: Featuring scenic trails, caves, and a beautiful waterfall, Leonard Springs Nature Park is a hidden gem perfect for hiking and nature exploration.
Cascades Park: A sprawling park with playgrounds, sports fields, and a beautiful waterfall, Cascades Park is an ideal spot for family outings and picnics.
Festivals and Events in Bloomington
Bloomington's lively arts and culture scene is evident in the city's many festivals and events held throughout the year. These celebrations showcase the city's diverse community and foster a spirit of creativity and togetherness. Some notable festivals and events include:
Lotus World Music & Arts Festival: An annual event celebrating global music and arts, the Lotus Festival brings together performers and artists from around the world for a weekend of immersive cultural experiences.
Bloomington Craft Beer Festival: A popular event for beer enthusiasts, the Bloomington Craft Beer Festival showcases local and regional breweries, offering tastings and live entertainment in a festive atmosphere.
Taste of Bloomington: A culinary extravaganza, Taste of Bloomington highlights the diverse range of restaurants and eateries in the city, with food samples, live music, and family-friendly activities.
Fourth Street Festival of the Arts & Crafts: Held every Labor Day weekend, this outdoor arts and crafts fair features the works of local and regional artists, live entertainment, and activities for all ages.
Food and Dining in Bloomington
From cozy cafes to fine dining establishments, Bloomington boasts a thriving food scene that caters to diverse tastes and preferences. Here are a few standout dining options:
FARMbloomington: A farm-to-table eatery, FARMbloomington serves up seasonal dishes made from locally-sourced ingredients, with a focus on sustainability and supporting local farmers.
Upland Brewing Company: A local favorite, Upland Brewing Company offers a wide selection of craft beers, as well as delicious pub fare in a casual, laid-back atmosphere.
Samira: For a taste of authentic Afghan cuisine, look no further than Samira, which serves up delicious dishes like kabobs and mantu in an elegant setting.
Laughing Planet Cafe: A popular spot for health-conscious diners, Laughing Planet Cafe offers a menu full of fresh, organic, and locally-sourced ingredients, with a focus on sustainability and environmentally-friendly practices.
Shopping in Bloomington
From charming boutiques to popular retail chains, Bloomington offers a variety of shopping destinations for all tastes and budgets. Some noteworthy shopping spots include:
College Mall: A regional shopping center, College Mall features popular retailers, dining options, and entertainment venues in a convenient, indoor setting.
Kirkwood Avenue: A vibrant shopping district near the Indiana University campus, Kirkwood Avenue is home to a mix of local boutiques, cafes, and art galleries, making it a popular destination for students and visitors alike.
Fountain Square Mall: Located in downtown Bloomington, Fountain Square Mall offers a unique shopping experience, with an array of specialty shops and services housed in a beautifully-restored historic building.
Transportation in Bloomington
Getting around Bloomington is relatively easy, thanks to the city's public transportation system, which includes buses operated by Bloomington Transit and Indiana University Campus Bus Service. The city is also bike-friendly, with numerous bike lanes and multi-use paths available for those who prefer to navigate on two wheels.
For regional travel, the nearby Interstate 69 provides convenient access to Indianapolis and other cities in Indiana, while the Monroe County Airport offers limited commercial flights and general aviation services.
Bloomington, Indiana – A City Rich in Culture and Natural Beauty
With its picturesque landscapes, thriving arts scene, diverse dining options, and exciting events, Bloomington, Indiana, is a city that truly has something for everyone. Whether you're a long-time resident, a student at Indiana University, or just visiting, there is always something new and exciting to discover in this welcoming and vibrant community.
As part of the Bloomington area, Indiana Wall Systems is proud to serve the city's residents and businesses, contributing to the ongoing growth and development of this remarkable area. We hope this guide has given you a taste of the many attractions and experiences that make Bloomington such a special place to live, work, and play. Enjoy exploring all that this charming city has to offer!
Neighborhoods and Living in Bloomington
Bloomington is home to a variety of neighborhoods, each with its own unique character and charm. Whether you're looking for a quiet, residential area, or a bustling, urban environment, there's a neighborhood to suit your lifestyle. Some popular neighborhoods in Bloomington include:
Elm Heights: A historic neighborhood located near the Indiana University campus, Elm Heights features beautiful tree-lined streets and a mix of architectural styles, ranging from charming bungalows to elegant, early 20th-century homes.
Prospect Hill: Known for its vibrant arts scene and eclectic mix of shops and restaurants, Prospect Hill is a lively, walkable neighborhood that attracts a diverse community of residents.
Highland Village: A family-friendly neighborhood with ample green space and parks, Highland Village offers a mix of single-family homes, townhouses, and apartments in a peaceful suburban setting.
Downtown Bloomington: The heart of the city, downtown Bloomington is a bustling urban center, home to a variety of shops, restaurants, entertainment venues, and cultural institutions.
Education in Bloomington
Bloomington offers a strong educational foundation for its residents, with a range of public and private schools, as well as higher education institutions. The Monroe County Community School Corporation (MCCSC) oversees the city's public schools, which include several highly-rated elementary, middle, and high schools.
In addition to Indiana University, Bloomington is also home to Ivy Tech Community College, a popular choice for students seeking associate degrees and vocational training programs.
Sports and Recreation in Bloomington
Bloomington's numerous parks, lakes, and recreational facilities provide residents and visitors with ample opportunities for sports and outdoor activities. The city boasts several well-maintained public golf courses, tennis courts, and swimming pools, as well as facilities for basketball, soccer, and other team sports.
The city also offers several fitness centers, yoga studios, and other exercise facilities, catering to a wide range of interests and fitness levels.
For those looking to enjoy the great outdoors, Bloomington's many parks, nature preserves, and hiking trails provide the perfect setting for activities like hiking, biking, birdwatching, and more.
Arts and Culture in Bloomington
Bloomington's thriving arts and culture scene is a significant part of the city's identity. With numerous galleries, theaters, and performance spaces, the city offers a rich array of artistic experiences for residents and visitors alike. In addition to the institutions located on the Indiana University campus, some noteworthy arts and culture venues in Bloomington include:
Bloomington Playwrights Project: A local theater company dedicated to the development and production of new plays, Bloomington Playwrights Project offers a unique platform for emerging playwrights and local talent.
Buskirk-Chumley Theater: A historic theater in downtown Bloomington, the Buskirk-Chumley hosts a diverse range of performances, including live music, dance, and theater productions.
John Waldron Arts Center: Home to art galleries, performance spaces, and classrooms, the John Waldron Arts Center is a hub for the local arts community, offering classes, workshops, and events for artists and art enthusiasts.
From its vibrant neighborhoods and excellent educational institutions to its diverse dining scene and abundant recreational opportunities, Bloomington, Indiana, truly offers something for everyone. The city's thriving arts and culture scene, coupled with its beautiful natural surroundings, make it a truly unique and welcoming place to call home.
As a proud member of the Bloomington community, Indiana Wall Systems is dedicated to providing the highest-quality services to residents and businesses in the area. We hope this guide has given you a comprehensive look at the many features and attractions that make Bloomington such a special place to live, work, and visit. So, whether you're planning a move to Bloomington or just exploring the city for a day, we invite you to immerse yourself in all that this charming city has to offer.
Top Bloomington FAQs and Answers
Q: What is Bloomington, Indiana, known for?
A: Bloomington is best known as the home of Indiana University and for its vibrant arts and culture scene, beautiful outdoor recreational areas, and diverse culinary landscape.
Q: How far is Bloomington, Indiana, from Indianapolis?
A: Bloomington is approximately 50 miles southwest of Indianapolis. The drive typically takes around an hour via Interstate 69.
Q: What are some must-visit attractions in Bloomington?
A: Some popular attractions in Bloomington include the Indiana University campus, Griffy Lake Nature Preserve, Monroe Lake, the Lotus World Music & Arts Festival, and Taste of Bloomington.
Q: Is Bloomington a good place to live?
A: Bloomington is considered a great place to live, thanks to its strong sense of community, thriving arts and culture scene, excellent educational institutions, and abundant recreational opportunities.
Q: What is the weather like in Bloomington?
A: Bloomington experiences a typical Midwestern climate, with warm summers, cold winters, and moderate precipitation throughout the year. The city is known for its beautiful fall foliage and vibrant spring blooms.