Greenwood Indiana - EIFS Contractor
The Premier EIFS Contractor Serving Greenwood, Indiana
Why Choose Indiana Wall Systems for Your EIFS Needs in Greenwood?
Indiana Wall Systems stands out as the leading EIFS repair, installation, and construction contractor in Greenwood, Indiana. With a team of highly skilled professionals and a commitment to customer satisfaction, they consistently outperform their competitors. Discover the reasons why Indiana Wall Systems is the go-to choice for EIFS services in Greenwood.
Expertise and Experience
Highly Skilled Professionals Indiana Wall Systems boasts a team of experienced and certified EIFS professionals who are dedicated to delivering top-notch workmanship. Their extensive training and hands-on experience ensure that your EIFS project will be handled with the utmost care and expertise.
Proven Track Record With a long history of successful projects in Greenwood and the surrounding areas, Indiana Wall Systems has built a solid reputation for quality work and exceptional customer service. Their portfolio of satisfied clients speaks volumes about their commitment to excellence.
Comprehensive EIFS Services
Repair and Maintenance Indiana Wall Systems specializes in EIFS repair and maintenance, helping to extend the life of your system and maintain its efficiency. Their skilled team is capable of addressing a wide range of issues, from cracks and water damage to routine maintenance.
Installation and Construction As experts in EIFS installation and construction, Indiana Wall Systems can handle projects of all sizes, from small residential applications to large commercial buildings. Their attention to detail and adherence to industry best practices ensure a high-quality result that stands the test of time.
Customer Satisfaction
Personalized Solutions Indiana Wall Systems takes the time to understand each client's unique needs and preferences, tailoring their approach to provide personalized solutions. This focus on customization sets them apart from their competitors and ensures a seamless, satisfying experience for their clients.
Exceptional Support The team at Indiana Wall Systems is committed to providing outstanding support throughout every phase of your EIFS project. From the initial consultation to the final walkthrough, their experts are always available to address any concerns and ensure your complete satisfaction.
Choose Indiana Wall Systems for the Best EIFS Services in Greenwood
Indiana Wall Systems stands out as the premier EIFS contractor in Greenwood, Indiana, thanks to their skilled professionals, comprehensive services, and unwavering commitment to customer satisfaction. Choose Indiana Wall Systems for all your EIFS repair, installation, and construction needs, and experience the difference for yourself.
Commitment to Quality and Safety
Use of High-Quality Materials Indiana Wall Systems understands the importance of using high-quality materials for all EIFS projects. They source the best products in the industry, ensuring durability, energy efficiency, and long-lasting beauty for your property.
Strict Adherence to Safety Standards Safety is a top priority for Indiana Wall Systems. Their team adheres to strict safety standards and guidelines, ensuring that all EIFS projects are completed with the highest level of care and professionalism.
Eco-Friendly Solutions
Energy-Efficient EIFS Systems Indiana Wall Systems recognizes the importance of energy efficiency and sustainability. They specialize in installing EIFS systems that provide superior insulation, reducing energy consumption and lowering your utility bills.
Environmentally Conscious Practices The team at Indiana Wall Systems is dedicated to minimizing their environmental impact. They use eco-friendly materials and practices whenever possible, and they constantly strive to improve their processes to reduce waste and emissions.
Competitive Pricing and Financing Options
Fair and Transparent Pricing Indiana Wall Systems is committed to providing competitive pricing for their EIFS services without compromising on quality. They offer transparent quotes with no hidden fees, ensuring you get the best value for your investment.
Flexible Financing Solutions To make EIFS projects more accessible, Indiana Wall Systems offers a variety of financing options to suit different budgets and financial situations. Their team will work with you to find a solution that meets your needs and helps you achieve your property improvement goals.
Trust Indiana Wall Systems for Unparalleled EIFS Services in Greenwood
Indiana Wall Systems' expertise, comprehensive services, commitment to customer satisfaction, and dedication to quality and safety make them the premier choice for EIFS services in Greenwood, Indiana. With eco-friendly solutions, competitive pricing, and flexible financing options, they truly stand out from the competition. Choose Indiana Wall Systems for all your EIFS repair, installation, and construction needs, and experience their exceptional service for yourself.
FAQs:
Q: How can I get a quote for EIFS services from Indiana Wall Systems? A: To obtain a quote for your EIFS project, contact Indiana Wall Systems directly via their website or by phone. Their team will be happy to discuss your needs and provide a detailed estimate.
Q: Does Indiana Wall Systems offer a warranty on their EIFS work? A: Yes, Indiana Wall Systems provides a warranty on their EIFS work. The specifics of the warranty may vary depending on the project, so be sure to discuss the details with their team during your consultation.
Q: How long does an EIFS project typically take to complete? A: The duration of an EIFS project depends on the size and complexity of the job. Indiana Wall Systems will provide an estimated timeline during the consultation process, and they are committed to completing projects efficiently and within the agreed-upon timeframe.
Q: Can Indiana Wall Systems help with the design and color selection of my EIFS project? A: Yes, Indiana Wall Systems' team is happy to assist with design and color selection for your EIFS project. They can provide guidance and recommendations to help you achieve the desired aesthetic for your property.
Discover Greenwood, Indiana: The Heart of Johnson County
Located in Johnson County, Greenwood is a thriving city that perfectly balances small-town charm with urban amenities. Boasting beautiful parks, top-rated schools, and a diverse array of shops and restaurants, Greenwood has something for everyone. Discover the rich history, vibrant culture, and welcoming community that make Greenwood, Indiana a fantastic place to call home.
Greenwood's Rich History
Early Beginnings Established in 1823, Greenwood has a storied past that has shaped its growth into the thriving city it is today. Learn about the city's early days, its founders, and how the railroad played a vital role in its development.
Historic Sites and Landmarks Explore Greenwood's historic sites, such as the Polk House and the Greenwood Veterans Memorial Park, to uncover the city's storied past and appreciate its preserved architectural gems.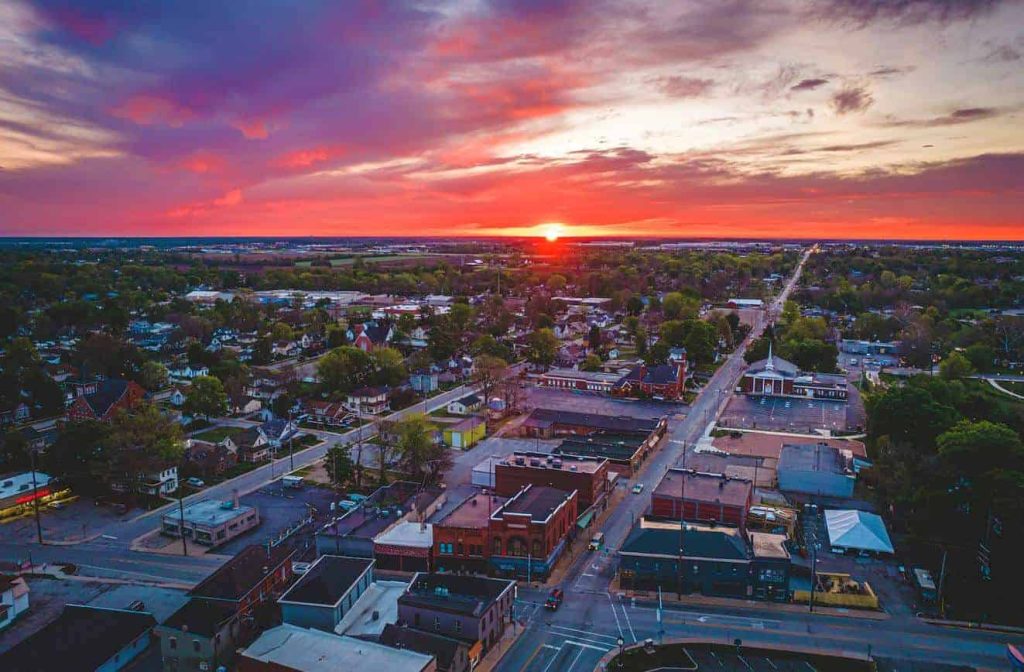 Parks and Recreation
Outdoor Spaces Greenwood's numerous parks, including Westside Park and Freedom Springs Aquatic Center, offer plenty of opportunities for recreation, relaxation, and family fun. Discover the amenities each park has to offer and plan your perfect day outdoors.
Trails and Greenways Hit the trails and explore Greenwood's picturesque greenways, such as the Pennsy Rail Trail and the Pleasant Run Trail. Whether you're walking, jogging, or cycling, these trails provide a scenic way to stay active and connect with nature.
Shopping and Dining
Greenwood Park Mall Experience the region's premier shopping destination, Greenwood Park Mall, featuring over 150 stores, restaurants, and entertainment options that cater to a wide range of tastes and budgets.
Local Eateries and Breweries Discover Greenwood's vibrant food scene, from family-owned restaurants to bustling breweries. Sample local flavors, enjoy international cuisine, and experience the city's culinary diversity.
Education and Community Resources
Top-Rated Schools Learn about Greenwood's highly rated public and private schools, which provide students with a solid foundation for success and offer a wide range of extracurricular activities to foster well-rounded development.
Community Centers and Libraries Greenwood's community centers and libraries serve as essential resources for residents, providing access to educational programs, recreational activities, and cultural events that enrich the community.
Arts and Culture
Greenwood Community Center The Greenwood Community Center serves as a hub for arts, culture, and entertainment in the city. With a variety of programs, classes, and events, the center is a great resource for residents looking to explore their creative side.
Local Art Galleries and Studios Discover Greenwood's burgeoning art scene by visiting local galleries and studios. These creative spaces showcase the works of talented artists, providing opportunities for inspiration and engagement with the local community.
Business and Economy
Thriving Local Businesses Greenwood's business landscape is diverse and flourishing, with a mix of retail, service, and manufacturing industries. Learn about the city's key business sectors, and how local companies contribute to Greenwood's economic growth and vitality.
Employment Opportunities With its strategic location and strong business environment, Greenwood offers a wide range of employment opportunities. Explore the city's major employers, and learn about resources for job seekers and entrepreneurs.
Transportation and Accessibility
Convenient Highway Access Greenwood is well-connected to the surrounding region, with easy access to major highways such as I-65 and US-31. This makes the city an ideal location for commuters, as well as a convenient base for exploring nearby attractions.
Public Transportation Options Public transportation in Greenwood is provided by IndyGo and the Commuter Connect program, offering reliable and affordable options for residents to travel throughout the Indianapolis metropolitan area.
Greenwood a Vibrant and Growing City to Call Home

Greenwood, Indiana, continues to thrive as a dynamic and growing city that offers a wealth of opportunities for its residents. With its rich history, beautiful parks, thriving businesses, and strong sense of community, Greenwood is a fantastic place to call home. Greenwood, Indiana, in Johnson County, offers the perfect blend of small-town charm and urban amenities. With a rich history, picturesque parks, excellent shopping and dining options, and top-rated schools, Greenwood is a fantastic place to live, work, and play.
Greenwood Indiana FAQs:
Q: What is the population of Greenwood, Indiana?
A: As of 2023, the population of Greenwood is approximately 68,042 residents. Please check the latest census data for the most up-to-date information.
Q: How far is Greenwood from Indianapolis?
A: Greenwood is located about 12 miles south of downtown Indianapolis, making it a convenient and accessible suburb for those working in the city.
Q: What are some annual events in Greenwood? A: Greenwood hosts several annual events, such as the Freedom Festival, WAMMfest, and the Greenwood Trail Trek 5K, which celebrate the city's culture, community, and outdoor spaces.
Q: Are there any colleges or universities in Greenwood? A: While there are no colleges or universities directly within Greenwood's city limits, the city is in close proximity to several higher education institutions, including Indiana University-Purdue University Indianapolis (IUPUI) and the University of Indianapolis.
Q: What is the cost of living in Greenwood? A: The cost of living in Greenwood is generally lower than the national average, making it an affordable option for those looking to settle in the area. However, it's always a good idea to research current cost of living data to get the most accurate information.