Franklin Indiana - EIFS Contractor
The Premier EIFS Contractor Serving Franklin, Indiana
Why Choose Indiana Wall Systems for Your EIFS Needs in Franklin?
Indiana Wall Systems stands out as the leading EIFS repair, installation, and construction contractor in Franklin, Indiana. With a team of highly skilled professionals and a commitment to customer satisfaction, they consistently outperform their competitors. Discover the reasons why Indiana Wall Systems is the go-to choice for EIFS services in Franklin.
Expertise and Experience
Highly Skilled Professionals Indiana Wall Systems boasts a team of experienced and certified EIFS professionals who are dedicated to delivering top-notch workmanship. Their extensive training and hands-on experience ensure that your EIFS project will be handled with the utmost care and expertise.
Proven Track Record With a long history of successful projects in Franklin and the surrounding areas, Indiana Wall Systems has built a solid reputation for quality work and exceptional customer service. Their portfolio of satisfied clients speaks volumes about their commitment to excellence.
Comprehensive EIFS Services
Repair and Maintenance Indiana Wall Systems specializes in EIFS repair and maintenance, helping to extend the life of your system and maintain its efficiency. Their skilled team is capable of addressing a wide range of issues, from cracks and water damage to routine maintenance.
Installation and Construction As experts in EIFS installation and construction, Indiana Wall Systems can handle projects of all sizes, from small residential applications to large commercial buildings. Their attention to detail and adherence to industry best practices ensure a high-quality result that stands the test of time.
Franklin Customer Satisfaction
Personalized Solutions Indiana Wall Systems takes the time to understand each client's unique needs and preferences, tailoring their approach to provide personalized solutions. This focus on customization sets them apart from their competitors and ensures a seamless, satisfying experience for their clients.
Exceptional Support The team at Indiana Wall Systems is committed to providing outstanding support throughout every phase of your EIFS project. From the initial consultation to the final walkthrough, their experts are always available to address any concerns and ensure your complete satisfaction.
Choose Indiana Wall Systems for the Best EIFS Services in Franklin
Indiana Wall Systems stands out as the premier EIFS contractor in Franklin, Indiana, thanks to their skilled professionals, comprehensive services, and unwavering commitment to customer satisfaction. Choose Indiana Wall Systems for all your EIFS repair, installation, and construction needs, and experience the difference for yourself.
Commitment to Quality and Safety
Use of High-Quality Materials Indiana Wall Systems understands the importance of using high-quality materials for all EIFS projects. They source the best products in the industry, ensuring durability, energy efficiency, and long-lasting beauty for your property.
Strict Adherence to Safety Standards Safety is a top priority for Indiana Wall Systems. Their team adheres to strict safety standards and guidelines, ensuring that all EIFS projects are completed with the highest level of care and professionalism.
Eco-Friendly Solutions
Energy-Efficient EIFS Systems Indiana Wall Systems recognizes the importance of energy efficiency and sustainability. They specialize in installing EIFS systems that provide superior insulation, reducing energy consumption and lowering your utility bills.
Environmentally Conscious Practices The team at Indiana Wall Systems is dedicated to minimizing their environmental impact. They use eco-friendly materials and practices whenever possible, and they constantly strive to improve their processes to reduce waste and emissions.
Competitive Pricing and Financing Options
Fair and Transparent Pricing Indiana Wall Systems is committed to providing competitive pricing for their EIFS services without compromising on quality. They offer transparent quotes with no hidden fees, ensuring you get the best value for your investment.
Flexible Financing Solutions To make EIFS projects more accessible, Indiana Wall Systems offers a variety of financing options to suit different budgets and financial situations. Their team will work with you to find a solution that meets your needs and helps you achieve your property improvement goals.
Trust Indiana Wall Systems for Unparalleled EIFS Services in Franklin
Indiana Wall Systems' expertise, comprehensive services, commitment to customer satisfaction, and dedication to quality and safety make them the premier choice for EIFS services in Franklin, Indiana. With eco-friendly solutions, competitive pricing, and flexible financing options, they truly stand out from the competition. Choose Indiana Wall Systems for all your EIFS repair, installation, and construction needs, and experience their exceptional service for yourself.
How can I get a quote for EIFS services from Indiana Wall Systems?
To obtain a quote for your EIFS project, contact Indiana Wall Systems directly via contact form or by phone. Our team will be happy to discuss your needs and provide a detailed estimate.
Welcome to Franklin, Indiana - The Gem of Johnson County
Franklin, Indiana, located in the heart of Johnson County, is a vibrant and bustling city with a rich history and an exciting future. With its charming downtown area, beautiful parks, and numerous local attractions, Franklin is a fantastic place to live, work, and play. In this guide, we'll dive deep into everything that makes Franklin so special.
Outdoor Adventures in Franklin
Franklin's beautiful parks and green spaces offer endless opportunities for outdoor fun. Some popular spots include:
Blue Heron Park: A picturesque destination for birdwatching, fishing, or a leisurely picnic. Keep an eye out for the park's namesake herons!
The Greenway Trail: This scenic, multi-use trail winds through the heart of Franklin, connecting parks and neighborhoods. Perfect for walking, jogging, or biking.
Province Park: Home to a fantastic aquatic center, this park is a summertime favorite for families looking to beat the heat.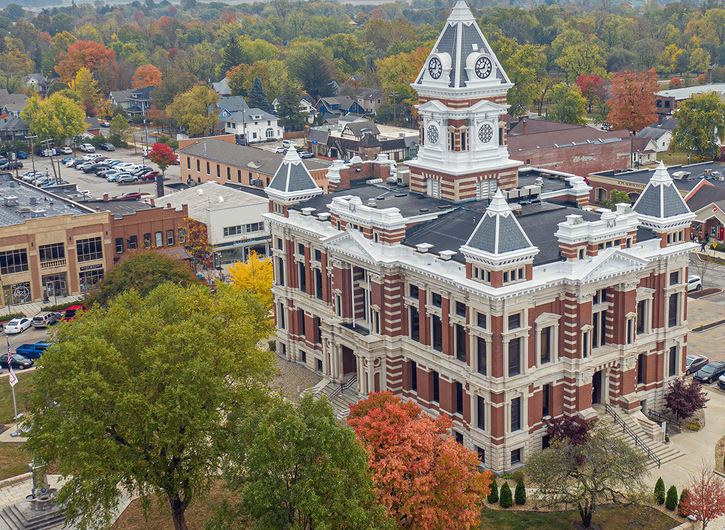 Festivals and Events in Franklin, Indiana
Franklin's vibrant community spirit shines through in its annual events and festivals. Be sure to mark your calendar for these can't-miss happenings:
Franklin Fall Festival: A celebration of autumn with live music, food vendors, and family-friendly activities. Don't miss the spectacular fireworks display!
Strawberry Festival: Held each June, this sweet event features all things strawberry – from shortcake to ice cream. It's berry good fun for all ages!
The Festival of Lights: Franklin's downtown area transforms into a winter wonderland during this annual holiday event, complete with twinkling lights, carolers, and horse-drawn carriage rides.
Arts and Culture in Franklin, Indiana
Franklin, Indiana boasts a thriving arts and culture scene, offering residents and visitors plenty of opportunities to explore their creative side and engage with the local community. From galleries and theaters to art classes and community events, there's something for everyone in this charming city.
The Artcraft Theatre
A cornerstone of Franklin's cultural landscape, the historic Artcraft Theatre showcases classic films, live performances, and community events in a beautifully restored 1920s movie theater. With its iconic marquee and art deco architecture, the Artcraft Theatre is a must-see attraction for film buffs and history enthusiasts alike.
Franklin Cultural Arts and Recreation Center
This multi-purpose facility offers a wide array of arts and cultural programs, including art classes, dance lessons, and music instruction for all ages. The center also hosts regular community events and performances, making it a hub of creativity and entertainment in Franklin.
Johnson County Public Library

In addition to its extensive collection of books, the Johnson County Public Library offers a variety of arts and cultural programming. From art exhibits and author talks to writing workshops and book clubs, the library is a valuable resource for fostering creativity and a love of learning in the community.
Franklin College Fine Arts
Franklin College, a liberal arts institution, offers a rich arts education to its students and the wider community. The college's Fine Arts department hosts regular art exhibits, theatre productions, and musical performances, showcasing the talents of its students and faculty.
Public Art and Murals
Franklin's commitment to the arts is evident in its vibrant public art scene. Throughout the city, you'll find colorful murals and sculptures that enhance the beauty of the community and celebrate its creative spirit. Keep an eye out for these artistic treasures as you explore the city's streets and parks.
Franklin, Indiana is a city with a thriving arts and culture scene that offers diverse experiences for residents and visitors alike. Whether you're interested in film, visual arts, music, or theatre, there's something for everyone to enjoy in this charming and creative community.
The Johnson County Museum of History: A Gateway to the Past
The Johnson County Museum of History, located in the heart of Franklin, Indiana, is a must-visit destination for history buffs and curious explorers alike. This engaging museum showcases the rich history of Johnson County and the surrounding area, offering visitors a unique opportunity to delve into the past and discover the stories that have shaped this charming community.
A Diverse Collection of Exhibits
The museum boasts an extensive collection of artifacts and exhibits that span various periods and aspects of Johnson County's history. From Native American artifacts and pioneer life to the impact of the railroad and the growth of local industry, the museum's exhibits paint a vivid picture of the region's past.
Some of the permanent exhibits include:
The Hoosier Cabinet: This exhibit highlights the iconic Hoosier Cabinet, a staple in many early 20th-century kitchens, and its connection to Johnson County.
The Military Room: Dedicated to the brave men and women who have served our country, this exhibit features uniforms, weapons, and personal items that tell the stories of Johnson County's military history.
The School Room: Take a trip back in time to a one-room schoolhouse and learn about the early days of education in Johnson County.
Hands-On Learning for Kids
The Johnson County Museum of History is a family-friendly destination that offers interactive learning experiences for children of all ages. The museum's Kids' Corner features hands-on exhibits and activities designed to spark curiosity and inspire a love of history in young visitors.
Special Events and Programs
The museum hosts a variety of special events and programs throughout the year, including guest speakers, historical reenactments, and themed tours. These events provide unique opportunities for visitors to further immerse themselves in the region's history and connect with fellow history enthusiasts.
Research Library and Archives
For those looking to delve even deeper into Johnson County's past, the museum's research library and archives offer a wealth of resources, including books, newspapers, photographs, and genealogy records. Whether you're researching your family's history or working on a school project, the knowledgeable staff is available to assist you with your research.
The Johnson County Museum of History is an invaluable resource for anyone interested in exploring the rich history of Franklin, Indiana, and the surrounding area. With its diverse exhibits, hands-on learning opportunities, and special events, the museum offers a captivating glimpse into the past that is sure to inspire curiosity and appreciation for the region's heritage.
Top Franklin, Indiana FAQs and Answers
Q: The population of Franklin, Indiana?
A: As of 2021, the population of Franklin, Indiana is approximately 25,437 (2021) residents.
Q: What are the best schools in Franklin, Indiana?
A: Franklin Community Schools, a highly-rated public school district, serves the area. Additionally, Franklin College, a private liberal arts college, offers excellent higher education opportunities.
Q: How far is Franklin from Indianapolis?
A: Franklin is located about 20 miles south of Indianapolis, making it an easy commute for those working in the state's capital.
Q: What are some popular places to eat in Franklin?
A: Some local favorites include The Willard, Court Street Cafe, and Ann's Restaurant. Be sure to also check out the locally-owned coffee shops and ice cream parlors in the historic downtown area.
Q: Are there any annual events in Franklin, Indiana that I should know about?
A: Yes! Franklin hosts several popular events, including the Strawberry Festival in June, the Franklin Fall Festival in October, and the Festival of Lights during the holiday season.