Carmel Indiana - EIFS Company
The Premier EIFS Contractor Serving Carmel, Indiana
Why Indiana Wall Systems is the Best EIFS Option in Carmel, Ind
Exterior Insulation and Finish Systems (EIFS) have become a popular choice for both commercial and residential buildings due to their energy efficiency, durability, and aesthetic appeal. As the demand for EIFS grows, so does the importance of choosing a reliable and professional service provider to ensure the best results. Indian Wall Systems has emerged as a leading EIFS provider in Indianapolis, thanks to its quality workmanship, customer-centric approach, and commitment to using top-tier materials.
Indiana Wall Systems Company Profile
Established in Indianapolis, Indian Wall Systems has built a solid reputation as an EIFS specialist with a strong focus on quality and customer satisfaction. The company offers a comprehensive range of services, including EIFS installation, repair, maintenance, and consulting services, and has been for 22 years.
A key aspect of their success is their dedication to working with top EIFS manufacturers, ensuring that their customers receive the best materials and systems available in the market. This commitment, combined with their highly skilled technicians and innovative design options, allows Indian Wall Systems to deliver tailored solutions for each project they undertake.
Benefits of Choosing Indian Wall Systems for Your EIFS Needs
When you choose Indian Wall Systems for your EIFS installation, repair, or maintenance needs, you can expect a range of benefits that set them apart from their competitors:
Expertise and experience: Indian Wall Systems boasts a team of highly skilled technicians who have undergone extensive training in EIFS installation and repair. Their impressive portfolio of successful projects showcases their ability to handle a wide variety of building types and designs.
Quality materials and systems: By partnering with industry-leading EIFS manufacturers, Indian Wall Systems ensures that its clients receive advanced, eco-friendly products that deliver top performance, energy efficiency, and durability.
Customized solutions: Indian Wall Systems takes a tailored approach to each project, providing innovative design options that cater to the specific needs and preferences of their clients. This personalized approach ensures that the result is both functional and aesthetically pleasing.
Exceptional customer service: From the initial consultation to the completion of the project, Indian Wall Systems maintains a client-focused approach, ensuring clear communication and full transparency throughout the entire process.
Case Studies: Indian Wall Systems' EIFS Success Stories
Indian Wall Systems has completed numerous successful EIFS projects for both commercial and residential buildings, earning them a reputation for excellence in the Indianapolis area. These case studies highlight their ability to deliver exceptional results across diverse project types:
Commercial projects: Indian Wall Systems has completed a variety of commercial EIFS installations, including retail centers, office buildings, and hotels. Satisfied clients have praised the company's attention to detail, timely project completion, and superior workmanship.
Residential projects: Homeowners who have chosen Indian Wall Systems for their EIFS needs have been impressed by the company's professionalism, design expertise, and commitment to using top-quality materials. These projects showcase the company's ability to enhance the beauty and energy efficiency of residential properties.

Choose Indiana Wall Systems for the Best EIFS Services in Carmel

Indiana Wall Systems stands out as the premier EIFS contractor in Carmel, Indiana, thanks to their skilled professionals, comprehensive services, and unwavering commitment to customer satisfaction. Choose Indiana Wall Systems for all your EIFS repair, installation, and construction needs, and experience the difference for yourself.
Commitment to Quality and Safety for Carmel Properties

Use of High-Quality Materials Indiana Wall Systems understands the importance of using high-quality materials for all EIFS projects. They source the best products in the industry, ensuring durability, energy efficiency, and long-lasting beauty for your property.
Strict Adherence to Safety Standards Safety is a top priority for Indiana Wall Systems in Carmel. Their team adheres to strict safety standards and guidelines, ensuring that all EIFS projects are completed with the highest level of care and professionalism.
Eco-Friendly Solutions for Carmel Homes and Businesses

Energy-Efficient EIFS Systems Indiana Wall Systems recognizes the importance of energy efficiency and sustainability. They specialize in installing EIFS systems that provide superior insulation, reducing energy consumption and lowering your utility bills.
Environmentally Conscious Practices The team at Indiana Wall Systems is dedicated to minimizing their environmental impact. They use eco-friendly materials and practices whenever possible, and they constantly strive to improve their processes to reduce waste and emissions.
Competitive Carmel Pricing and Financing Options
Fair and Transparent Pricing Indiana Wall Systems is committed to providing competitive pricing for their EIFS services without compromising on quality. We offer transparent quotes with no hidden fees, ensuring you get the best value for your investment.
Flexible Financing Solutions To make EIFS projects more accessible, Indiana Wall Systems offers a variety of financing options to suit different budgets and financial situations. Our team will work with you to find a solution that meets your needs and helps you achieve your property improvement goals.
Trust Indiana Wall Systems for Unparalleled EIFS Services in Carmel

Indiana Wall Systems' expertise, comprehensive services, commitment to customer satisfaction, and dedication to quality and safety make them the premier choice for EIFS services in Carmel, Indiana. With eco-friendly solutions, competitive pricing, and flexible financing options, they truly stand out from the competition. Choose Indiana Wall Systems for all your EIFS repair, installation, and construction needs, and experience their exceptional service for yourself.
How can I get a quote for EIFS services from Indiana Wall Systems?
To obtain a quote for your Carmel EIFS project, contact Indiana Wall Systems directly via contact form or by phone. Our team will be happy to discuss your needs and provide a detailed estimate.
Discover Carmel, Indiana: A Gem in the Heart of the Hoosier State
Introduction to Carmel, Indiana
Carmel, Indiana! Nestled in the heart of the Hoosier State, this thriving city has become a beloved destination for locals and visitors alike. With its unique charm, rich history, and undeniable beauty, Carmel is an alluring place to explore. So, buckle up, folks! We're about to embark on a journey through this spectacular city, and you'll see why Indiana Wall Systems is proud to serve the great community of Carmel.
A Stroll Down Carmel's History Lane
Established in 1837, Carmel's roots run deep. It has come a long way from its humble beginnings as a Quaker settlement, evolving into a bustling and vibrant city. Today, Carmel boasts a population of over 100,000, a far cry from the days when it was just a small farming community. But don't let the numbers fool you; the city has managed to maintain its small-town charm.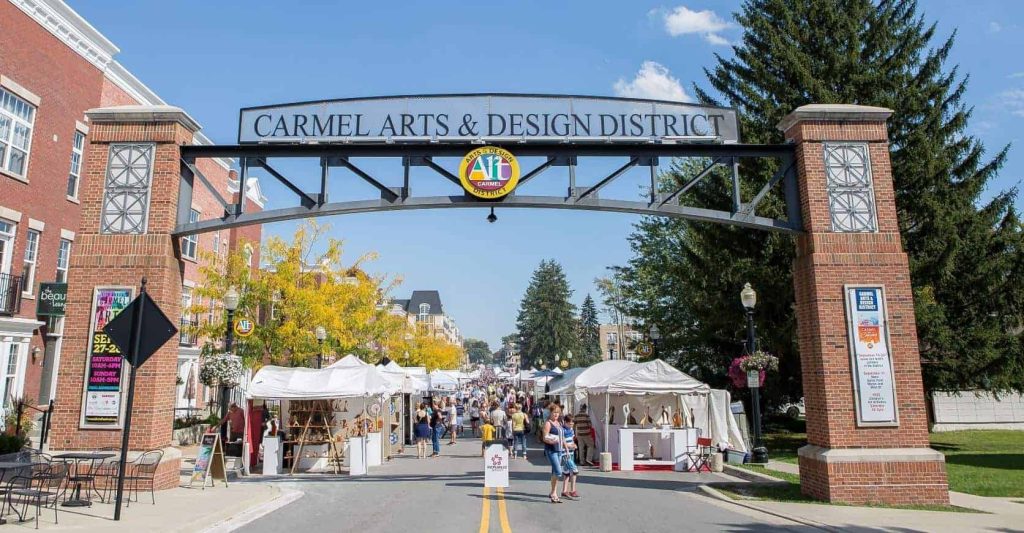 Events and Festivals Galore!
There's never a dull moment in Carmel, thanks to its lively events calendar. Some annual highlights include:
CarmelFest: Celebrating Independence Day with a bang, this summer festival features live music, a parade, a fireworks display, and loads of family-friendly activities.
The Carmel International Arts Festival: Attracting over 30,000 visitors each year, this festival showcases works from over 130 artists across various mediums.
Artomobilia: Car enthusiasts, unite! This one-day event in August showcases a stunning collection of vintage and exotic automobiles.
The Carmel Christkindlmarkt: A magical German-inspired Christmas market, this event brings holiday cheer to the heart of Carmel every winter.
Local Landmarks and Attractions
Carmel is brimming with fascinating landmarks and attractions, making it a true haven for explorers. From art galleries to parks, there's something for everyone. Here are some must-see spots:
The Carmel Arts & Design District: A creative hub, this district features a plethora of art galleries, studios, boutiques, and eateries. Don't miss the specialty interior design shops!
The Monon Greenway: This picturesque trail is perfect for walking, biking, or jogging, and stretches over 18 miles, connecting Carmel to downtown Indianapolis.
The Center for the Performing Arts: Home to the Palladium, a world-class concert hall, this venue hosts a wide array of performances, from concerts to theater productions.
Carmel Clay Parks & Recreation: With over 500 acres of parkland and a wide variety of recreational facilities, this is an excellent destination for families and outdoor enthusiasts.
Peace Water Winery: This award-winning winery offers tastings, tours, and a relaxing atmosphere for wine lovers to unwind.
Food and Dining in Carmel: A Culinary Delight
One of the many joys of living in or visiting Carmel is its thriving food scene. From casual eateries to upscale dining, the city offers a wide array of culinary delights that cater to diverse palates. Here are a few standout dining options:
Divvy: A trendy spot for sharing plates, Divvy offers a creative menu that encourages diners to sample a variety of dishes with friends and family.
Matt the Miller's Tavern: An American gastropub, Matt the Miller's Tavern serves up delicious fare alongside an extensive beer and wine list in a cozy, inviting atmosphere.
Woody's Library Restaurant: Housed in a historic Carnegie library, Woody's offers a unique dining experience complete with gourmet comfort food and an impressive selection of craft beers.
Blu Moon Cafe: A local favorite, this cozy cafe offers fresh, made-from-scratch menu items with a focus on healthy and organic ingredients.
Shopping Opportunities in Carmel
For those who love to shop, Carmel boasts a variety of shopping destinations that cater to all tastes and budgets. From boutique shops in the Arts & Design District to popular retail chains, there's no shortage of options for the discerning shopper:
Carmel City Center: A mixed-use development, Carmel City Center offers a unique blend of retail shops, restaurants, and residential spaces in a pedestrian-friendly environment.
Clay Terrace: This open-air shopping center features popular retailers, a variety of dining options, and a lively calendar of events, making it a go-to destination for shoppers in the area.
The Indiana Design Center: A hub for interior design enthusiasts, the Indiana Design Center houses an array of showrooms and design services that cater to both professionals and homeowners alike.
Outdoor Recreation in Carmel
With its abundance of parks, trails, and recreational facilities, Carmel offers endless opportunities for outdoor enthusiasts to stay active and enjoy the natural beauty of the area. Some popular outdoor destinations include:
Coxhall Gardens: A serene 125-acre park featuring beautifully landscaped gardens, walking paths, and a stunning bell tower, Coxhall Gardens is a true gem in the heart of Carmel.
Flowing Well Park: Home to a natural artesian well, this picturesque park offers a peaceful escape for those seeking a bit of tranquility amidst the hustle and bustle of city life.
West Park: A sprawling 120-acre park, West Park features a variety of amenities, including a playground, splash pad, and trails for walking and biking, making it a popular destination for families.
Whether you're a foodie, a shopaholic, or a nature lover, Carmel, Indiana offers a wealth of activities and attractions that cater to all interests. Embrace the vibrant culture, indulge in the diverse dining options, and explore the city's hidden gems, all while enjoying the warm and welcoming spirit that has put Carmel on the map as a top destination in the Hoosier State.
Indiana Wall Systems: Serving Carmel with Pride
As a leading provider of exterior and interior wall solutions in the central Indiana region, Indiana Wall Systems is proud to serve the beautiful city of Carmel. Our team of experts specializes in various services, including:
With a strong commitment to quality craftsmanship and customer satisfaction, we strive to exceed expectations, one project at a time. Our locations throughout Indiana ensure that we're always close by, ready to serve our clients in Carmel and beyond.
Unveiling the Charm of Carmel's Neighborhoods
Each neighborhood in Carmel offers its own unique flair, creating a diverse tapestry of communities that contribute to the city's vibrant atmosphere. Some of the notable neighborhoods include:
Home Place: A historic neighborhood that has preserved its small-town charm, Home Place is a tight-knit community with a welcoming atmosphere.
West Clay: A master-planned community with a mix of residential and commercial spaces, West Clay offers an upscale lifestyle with an array of amenities.
Arts & Design District: The heart of Carmel's creative scene, this district is perfect for those who appreciate art, culture, and a bustling atmosphere.
Top FAQs about Carmel, Indiana
Curious minds often have questions about Carmel, and we've got the answers!
What is Carmel, Indiana known for?

Carmel is renowned for its excellent quality of life, strong emphasis on the arts, beautiful parks and trails, and top-notch schools. The city's Arts & Design District and the Center for the Performing Arts are popular attractions, as well as the annual events like CarmelFest and the Carmel International Arts Festival.

How far is Carmel, Indiana from Indianapolis?

Carmel is located approximately 15 miles north of downtown Indianapolis. The distance makes it an ideal suburb for those seeking a quiet, family-friendly community while still enjoying convenient access to the amenities of a larger city.

Is Carmel, Indiana a good place to live?

Yes, Carmel is considered an excellent place to live, thanks to its low crime rates, top-rated schools, and diverse recreational options. Additionally, the city boasts a thriving economy with ample job opportunities, making it an attractive choice for families and young professionals alike.

What is the cost of living in Carmel, Indiana?

While the cost of living in Carmel is slightly higher than the national average, it is still considered relatively affordable compared to other major cities. Housing, healthcare, and transportation costs are slightly higher, but overall, residents enjoy a comfortable lifestyle without breaking the bank.

What is the population of Carmel, Indiana?

As of 2021, the population of Carmel is estimated to be around 101,000. The city has experienced steady growth in recent years, driven by its strong economy and excellent quality of life.
Wrapping Up: The Allure of Carmel, Indiana
From its rich history to its diverse attractions and neighborhoods, Carmel, Indiana is truly a city with something for everyone. As a company dedicated to serving this wonderful community, Indiana Wall Systems is proud to be part of Carmel's ongoing story. Whether you're a resident, a visitor, or a business owner, we hope this guide has provided you with valuable insights into the unique charm and allure of Carmel. So, go ahead and explore, indulge in the arts, revel in the festivities, and embrace the community spirit that makes Carmel such a special place to call home.