Bargersville Indiana - EIFS Contractor
The Premier EIFS Contractor Serving Bargersville, Indiana
Why Choose Indiana Wall Systems for Your EIFS Needs in Bargersville?
Indiana Wall Systems stands out as the leading EIFS repair, installation, and construction contractor in Bargersville, Indiana. With a team of highly skilled professionals and a commitment to customer satisfaction, they consistently outperform their competitors. Discover the reasons why Indiana Wall Systems is the go-to choice for EIFS services in Bargersville.
Expertise and Experience
Highly Skilled Professionals Indiana Wall Systems boasts a team of experienced and certified EIFS professionals who are dedicated to delivering top-notch workmanship. Their extensive training and hands-on experience ensure that your EIFS project will be handled with the utmost care and expertise.
Proven Track Record With a long history of successful projects in Bargersville and the surrounding areas, Indiana Wall Systems has built a solid reputation for quality work and exceptional customer service. Their portfolio of satisfied clients speaks volumes about their commitment to excellence.
Comprehensive EIFS Services
Repair and Maintenance Indiana Wall Systems specializes in EIFS repair and maintenance, helping to extend the life of your system and maintain its efficiency. Their skilled team is capable of addressing a wide range of issues, from cracks and water damage to routine maintenance.
Installation and Construction As experts in EIFS installation and construction, Indiana Wall Systems can handle projects of all sizes, from small residential applications to large commercial buildings. Their attention to detail and adherence to industry best practices ensure a high-quality result that stands the test of time.
Bargersville Customer Satisfaction
Personalized Solutions Indiana Wall Systems takes the time to understand each client's unique needs and preferences, tailoring their approach to provide personalized solutions. This focus on customization sets them apart from their competitors and ensures a seamless, satisfying experience for their clients.
Exceptional Support The team at Indiana Wall Systems is committed to providing outstanding support throughout every phase of your EIFS project. From the initial consultation to the final walkthrough, their experts are always available to address any concerns and ensure your complete satisfaction.
Choose Indiana Wall Systems for the Best EIFS Services in Bargersville

Indiana Wall Systems stands out as the premier EIFS contractor in Bargersville, Indiana, thanks to their skilled professionals, comprehensive services, and unwavering commitment to customer satisfaction. Choose Indiana Wall Systems for all your EIFS repair, installation, and construction needs, and experience the difference for yourself.
Commitment to Quality and Safety
Use of High-Quality Materials Indiana Wall Systems understands the importance of using high-quality materials for all EIFS projects. They source the best products in the industry, ensuring durability, energy efficiency, and long-lasting beauty for your property.
Strict Adherence to Safety Standards Safety is a top priority for Indiana Wall Systems. Their team adheres to strict safety standards and guidelines, ensuring that all EIFS projects are completed with the highest level of care and professionalism.
Eco-Friendly Solutions
Energy-Efficient EIFS Systems Indiana Wall Systems recognizes the importance of energy efficiency and sustainability. They specialize in installing EIFS systems that provide superior insulation, reducing energy consumption and lowering your utility bills.
Environmentally Conscious Practices The team at Indiana Wall Systems is dedicated to minimizing their environmental impact. They use eco-friendly materials and practices whenever possible, and they constantly strive to improve their processes to reduce waste and emissions.
Competitive Bargersville Pricing and Financing Options
Fair and Transparent Pricing Indiana Wall Systems is committed to providing competitive pricing for their EIFS services without compromising on quality. They offer transparent quotes with no hidden fees, ensuring you get the best value for your investment.
Flexible Financing Solutions To make EIFS projects more accessible, Indiana Wall Systems offers a variety of financing options to suit different budgets and financial situations. Their team will work with you to find a solution that meets your needs and helps you achieve your property improvement goals.
Trust Indiana Wall Systems for Unparalleled EIFS Services in Bargersville
Indiana Wall Systems' expertise, comprehensive services, commitment to customer satisfaction, and dedication to quality and safety make them the premier choice for EIFS services in Bargersville, Indiana. With eco-friendly solutions, competitive pricing, and flexible financing options, they truly stand out from the competition. Choose Indiana Wall Systems for all your EIFS repair, installation, and construction needs, and experience their exceptional service for yourself.
How can I get a quote for EIFS services from Indiana Wall Systems?
To obtain a quote for your Bargersville EIFS project, contact Indiana Wall Systems directly via contact form or by phone. Our team will be happy to discuss your needs and provide a detailed estimate.
Welcome to Bargersville, Indiana: A Charming Town with a Rich Heritage
Nestled in Johnson County, Bargersville is a quaint and welcoming town brimming with history and small-town charm. With its friendly atmosphere, scenic beauty, and thriving local community, Bargersville offers an idyllic slice of Indiana life. In this guide, we'll explore everything that makes this town a hidden gem just waiting to be discovered.
Exploring Bargersville's Historic Downtown
Bargersville's charming downtown area is the heart of the community, offering a delightful mix of local shops, eateries, and historic buildings. Strolling through the downtown streets, you'll discover:
The Old Bargersville Jail: This intriguing historic building once served as the town's jail and now offers a glimpse into the town's past.
Taxman Brewing Company: A popular local brewery and gastropub that serves up delicious craft beers and mouthwatering dishes, all in a cozy, welcoming setting.
Bargersville Farmer's Market: Held seasonally in the downtown area, this bustling market is the perfect place to pick up fresh produce, handmade crafts, and other local goods.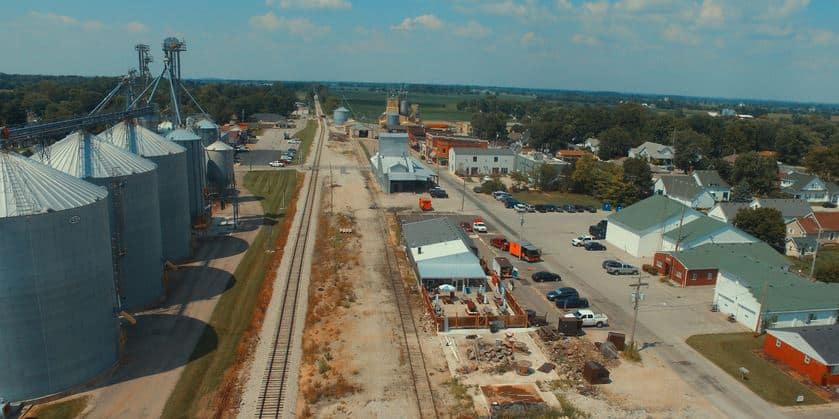 Outdoor Adventures in Bargersville
Bargersville offers plenty of opportunities to enjoy the great outdoors. The town's picturesque parks and natural areas provide an inviting backdrop for recreation and relaxation. Some local favorites include:
Windisch Park: A beautiful green space featuring walking trails, picnic areas, and a playground for the little ones.
Harvest Moon Flower Farm: A lovely family-owned farm where you can pick your own fresh flowers and enjoy the natural beauty of the area.
Mallow Run Winery: A delightful winery that offers tastings, tours, and special events surrounded by stunning vineyard views.
Bargersville's Festivals and Events
The town's lively community spirit comes to life during its annual festivals and events. These celebrations bring people together and showcase the best of what Bargersville has to offer:
Bargersville Main Street Festival: A lively street fair featuring live music, local vendors, and family-friendly activities, held each summer in the heart of downtown.
The Harvest Moon Festival: A fall celebration at Mallow Run Winery, featuring live music, local food, and of course, plenty of wine.
Diving into Bargersville's History
Bargersville has a fascinating history that can be explored through its historic sites and local museums. To learn more about the town's past, be sure to visit:
The Johnson County Museum of History: Located in nearby Franklin, this engaging museum offers exhibits and artifacts that tell the story of Johnson County, including Bargersville's unique heritage.
The Old Bargersville Jail: This historic building provides a window into the town's past, giving visitors a sense of what life was like in earlier times.
Educational Opportunities in Bargersville
Bargersville is part of the Center Grove Community School Corporation, which provides quality education to the area's students. The district features several top-rated schools, including:
Center Grove Elementary School
Center Grove Middle School North
Center Grove High School
These schools offer a well-rounded curriculum, including academics, athletics, and extracurricular activities, to support the development and growth of their students.
Getting Around Bargersville
Though Bargersville is a small town, it is well-connected to the surrounding areas by major roads and highways. State Road 135 and State Road 144 provide easy access to neighboring communities and Indianapolis. Public transportation options are limited, so a personal vehicle is the most common means of transportation for residents.
Real Estate and Housing in Bargersville
Bargersville offers a mix of housing options, ranging from charming historic homes in the downtown area to modern developments and rural properties. The town's real estate market is known for its affordability and diverse options, making it an attractive choice for families, young professionals, and retirees alike.
Experience the Charm and Community Life of Bargersville, Indiana

Bargersville boasts a strong sense of community and a welcoming atmosphere that makes residents feel right at home. The town offers numerous opportunities for residents to connect and engage with one another, including:
Community events and festivals, like the Bargersville Main Street Festival and the Harvest Moon Festival
Local organizations and clubs, such as the Bargersville Community Garden and the Bargersville Lions Club
Volunteer opportunities with local nonprofits and community groups
Whether you're a history enthusiast, an outdoor lover, or simply seeking a charming small-town escape, Bargersville, Indiana, has something for everyone. With its historic downtown area, beautiful parks, and lively annual events, this town is a true hidden gem in Johnson County.
---
Top Bargersville, Indiana FAQs and Answers
Q: The population of Bargersville, Indiana?
A: The current population of Bargersville, Indiana is 11,373 based on our projections of the latest US Census estimates
Q: How far is Bargersville from Indianapolis?
A: Bargersville is located about 20 miles south of Indianapolis, making it a convenient and accessible destination for those looking to escape the hustle and bustle of the city.
Q: What are some popular dining options in Bargersville?
A: Some local favorites include the Taxman Brewing Company, offering a delicious selection of craft beers and gastropub fare, and the Johnson's BBQ Shack, serving up mouthwatering smoked meats and classic barbecue sides.
Q: Are there any annual events in Bargersville that I should know about?
A: Yes! Bargersville hosts several popular events, such as the Bargersville Main Street Festival in the summer and the Harvest Moon Festival at Mallow Run Winery in the fall. These events offer fun and entertainment for the whole family.
Q: What outdoor recreational opportunities are available in Bargersville?
A: Bargersville provides a variety of outdoor activities, including scenic parks like Windisch Park, the Harvest Moon Flower Farm for flower picking, and the Mallow Run Winery, which offers tastings, tours, and special events in a picturesque setting.