Fishers Indiana - EIFS Contractor
The Premier EIFS Contractor Serving Fishers, Indiana
Why Choose Indiana Wall Systems for Your EIFS Needs in Fishers?
Indiana Wall Systems stands out as the leading EIFS repair, installation, and construction contractor in Fishers, Indiana. With a team of highly skilled professionals and a commitment to customer satisfaction, they consistently outperform their competitors. Discover the reasons why Indiana Wall Systems is the go-to choice for EIFS services in Fishers.
Fishers Expertise and Experience
Highly Skilled Professionals Indiana Wall Systems boasts a team of experienced and certified EIFS professionals who are dedicated to delivering top-notch workmanship in Fishers. Their extensive training and hands-on experience ensure that your EIFS project will be handled with the utmost care and expertise.
Proven Track Record With a long history of successful projects in Fishers and the surrounding areas, Indiana Wall Systems has built a solid reputation for quality work and exceptional customer service. Their portfolio of satisfied clients speaks volumes about their commitment to excellence.
Complete EIFS Services Fishers

Repair and Maintenance Indiana Wall Systems specializes in EIFS repair and maintenance, helping to extend the life of your system and maintain its efficiency. Their skilled team is capable of addressing a wide range of issues, from cracks and water damage to routine maintenance.
Installation and Construction As experts in EIFS installation and construction, Indiana Wall Systems can handle projects of all sizes, from small residential applications to large commercial buildings. Their attention to detail and adherence to industry best practices ensure a high-quality result that stands the test of time.
Fishers Customer Satisfaction
Personalized Solutions Indiana Wall Systems takes the time to understand each client's unique needs and preferences, tailoring their approach to provide personalized solutions. This focus on customization sets them apart from their competitors and ensures a seamless, satisfying experience for their clients.
Exceptional Support The team at Indiana Wall Systems is committed to providing outstanding support throughout every phase of your EIFS project. From the initial consultation to the final walkthrough, their experts are always available to address any concerns and ensure your complete satisfaction.
Choose Indiana Wall Systems for the Best EIFS Services in Fishers

Indiana Wall Systems stands out as the premier EIFS contractor in Fishers, Indiana, thanks to their skilled professionals, comprehensive services, and unwavering commitment to customer satisfaction. Choose Indiana Wall Systems for all your EIFS repair, installation, and construction needs, and experience the difference for yourself.
Commitment to Quality and Safety
Use of High-Quality Materials Indiana Wall Systems understands the importance of using high-quality materials for all EIFS projects. They source the best products in the industry, ensuring durability, energy efficiency, and long-lasting beauty for your property.
Strict Adherence to Safety Standards Safety is a top priority for Indiana Wall Systems. Their team adheres to strict safety standards and guidelines, ensuring that all EIFS projects are completed with the highest level of care and professionalism.
Eco-Friendly Solutions for Fishers, Indiana

Energy-Efficient EIFS Systems Indiana Wall Systems recognizes the importance of energy efficiency and sustainability. They specialize in installing EIFS systems that provide superior insulation, reducing energy consumption and lowering your utility bills.
Environmentally Conscious Practices The team at Indiana Wall Systems is dedicated to minimizing their environmental impact. The team uses eco-friendly materials and practices whenever possible, and they constantly strive to improve their processes to reduce waste and emissions.
Competitive Fishers Pricing and Financing Options
Fair and Transparent Pricing Indiana Wall Systems is committed to providing competitive pricing for their EIFS services without compromising on quality. We offer transparent quotes with no hidden fees, ensuring you get the best value for your investment.
Flexible Financing Solutions To make EIFS projects more accessible, Indiana Wall Systems offers a variety of financing options to suit different budgets and financial situations. Our team will work with you to find a solution that meets your needs and helps you achieve your property improvement goals.
Trust Indiana Wall Systems for Unparalleled EIFS Services in Fishers

Indiana Wall Systems' expertise, comprehensive services, commitment to customer satisfaction, and dedication to quality and safety make them the premier choice for EIFS services in Fishers, Indiana. With eco-friendly solutions, competitive pricing, and flexible financing options, they truly stand out from the competition. Choose Indiana Wall Systems for all your EIFS repair, installation, and construction needs, and experience their exceptional service for yourself.
How can I get a quote for EIFS services from Indiana Wall Systems?
To obtain a quote for your Fishers EIFS project, contact Indiana Wall Systems directly via contact form or by phone. Our team will be happy to discuss your needs and provide a detailed estimate.
Welcome to Fishers, Indiana
Fishers is a vibrant and fast-growing suburb located just northeast of Indianapolis. Known for its excellent schools, strong sense of community, and abundance of parks and recreational opportunities, Fishers is an attractive destination for families, young professionals, and retirees alike. In this guide, we'll explore the many aspects that make Fishers such a fantastic place to live, work, and play.
Local Attractions and Activities in Fishers
From parks and nature preserves to shopping centers and cultural institutions, Fishers offers a wide range of attractions and activities for residents and visitors to enjoy. Here are some of the top attractions in the area:
Conner Prairie Interactive History Park: This unique living history museum transports visitors back in time, offering immersive experiences and hands-on activities that bring Indiana's past to life. With its historical exhibits, interactive workshops, and seasonal events, Conner Prairie is a must-visit destination for history buffs and families alike.
Fishers District: This mixed-use development features a variety of shopping, dining, and entertainment options, including trendy boutiques, popular restaurants, and a state-of-the-art movie theater. The Fishers District is also home to the Fishers Test Kitchen, an innovative culinary incubator that showcases the talents of local chefs and food entrepreneurs.
Flat Fork Creek Park: This beautiful park offers a variety of recreational opportunities, including hiking and mountain biking trails, a fishing pond, and a 60-foot sledding hill. Flat Fork Creek Park is also home to a unique treehouse-themed playground, making it a favorite destination for families with young children.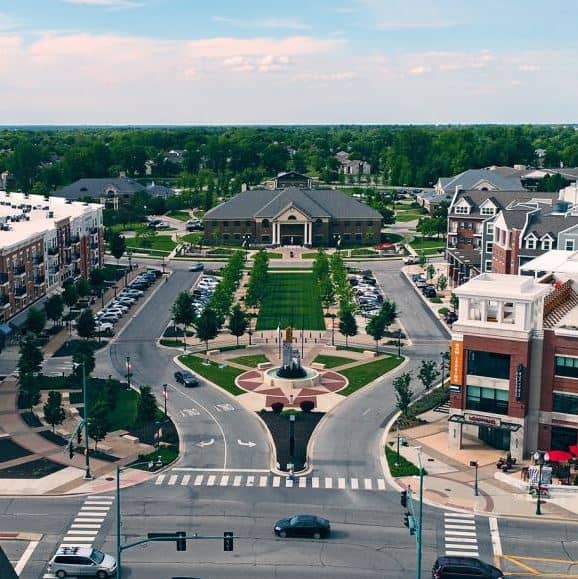 A Brief History of Fishers Indiana
Originally settled in the early 1800s, Fishers began as a small farming community called "Fishers Switch," named after its founder, Salathiel Fisher. In its early years, the town served as a hub for the area's agricultural industry, with the Nickel Plate Railroad playing a vital role in its growth and development. Over time, Fishers has transformed from a quiet farming town to one of the most thriving and desirable suburbs in the Indianapolis metropolitan area.
Dining in Fishers
From casual eateries to fine dining establishments, Fishers boasts a diverse and growing culinary scene. Here are some of the town's most popular restaurants:
LouVino: This trendy wine bar and restaurant offers a menu of creative small plates, along with an extensive wine list that features selections from around the world. LouVino is a popular destination for date nights, girls' nights out, and other special occasions.
Four Day Ray Brewing: This popular brewery and gastropub serves up a variety of handcrafted beers and a menu of elevated pub fare, including gourmet burgers, fish and chips, and artisanal flatbreads. With its laid-back atmosphere and spacious outdoor patio. Four Day Ray Brewing is an ideal spot for casual gatherings with friends and family.
Chao Vietnamese Street Food: Offering authentic Vietnamese cuisine in a modern and inviting setting, Chao Vietnamese Street Food has quickly become a local favorite. The menu features a variety of traditional dishes, including pho, banh mi, and rice bowls, all made with fresh ingredients and bold flavors.
Annual Events and Festivals in Fishers
Throughout the year, Fishers hosts a variety of events and festivals that bring the community together and celebrate the town's unique spirit. Some of the most popular annual events in Fishers include:
Fishers Farmers' Market: Held every Saturday from May to September, the Fishers Farmers' Market showcases the best of the region's produce, artisan goods, and prepared foods. With live music, cooking demonstrations, and other family-friendly activities, the market is a beloved weekend tradition for many Fishers residents.
Spark!Fishers: This annual summer event features a day of family fun, including a parade, street fair, live entertainment, and a spectacular fireworks display. Spark!Fishers is a highlight of the summer season and a great way to celebrate the town's vibrant community spirit.
Winter Wonderland: During the holiday season, Fishers transforms into a winter wonderland, complete with ice skating, festive light displays, and visits with Santa Claus. This family-friendly event is a cherished tradition for many Fishers families, creating lasting memories and spreading holiday cheer throughout the community.
Outdoor Recreation in Fishers
With its abundance of parks, green spaces, and recreational facilities, Fishers offers residents plenty of opportunities to enjoy the great outdoors. Some of the town's top outdoor attractions include:
Ritchey Woods Nature Preserve: This 127-acre nature preserve features a variety of habitats, including wetlands, forests, and meadows. With its network of well-maintained trails, Ritchey Woods is a popular destination for hiking, birdwatching, and nature photography.
Roy G. Holland Memorial Park: This centrally-located park offers a variety of recreational amenities, including sports fields, playgrounds, picnic areas, and a splash pad. The park also hosts a variety of community events and programs throughout the year.
Saxony Lake and Beach: This man-made lake and beach provide Fishers residents with a unique waterfront destination, complete with a sandy beach, swimming area, and picnic facilities. The lake is also a popular spot for kayaking, paddleboarding, and fishing.
Fishers, Indiana is a thriving and dynamic community that offers residents an exceptional quality of life. With its top-rated schools, diverse array of attractions and activities, and strong sense of community, Fishers is an ideal place to call home. We hope this comprehensive guide has provided you with a glimpse of what makes this town so special and has inspired you to explore all that Fishers has to offer.
Business and Employment Opportunities in Fishers
As a growing and economically diverse community, Fishers offers a variety of business and employment opportunities for residents. The town's convenient location in the Indianapolis metropolitan area, combined with its skilled workforce and pro-business climate, make it an attractive destination for both established companies and start-ups. Major industries in Fishers include healthcare, education, retail, and technology, among others.
Some of the largest employers in the area include the Hamilton Southeastern School District, Community Health Network, Roche Diagnostics, and Navient. In addition to these large organizations, Fishers is home to a vibrant small business community, with a variety of local shops, restaurants, and service providers offering employment opportunities to residents.
Housing and Real Estate in Fishers
Fishers offers a diverse range of housing options, catering to a variety of budgets and lifestyle preferences. From single-family homes and townhouses to apartments and condos, there's something for everyone in this growing community. The town's well-planned neighborhoods provide a family-friendly atmosphere, with parks, trails, and top-rated schools nearby.
Single-Family Homes: Fishers features a mix of well-maintained older homes and new construction, with a wide range of styles, sizes, and prices to choose from. Whether you're looking for a cozy starter home or a luxurious custom-built residence, there's something to suit your needs in Fishers.
Townhomes and Condos: For those seeking low-maintenance living, Fishers offers a selection of townhomes and condos with shared amenities such as pools, fitness centers, and clubhouses. These communities often provide residents with a more affordable alternative to single-family homes.
Apartments: Fishers boasts a variety of apartment communities, ranging from budget-friendly options to upscale complexes with high-end finishes and features. With a growing number of rental options available, Fishers caters to a diverse population of renters.
Transportation and Commuting in Fishers
Fishers' proximity to major highways and interstates makes commuting and travel convenient for residents. Interstate 69, which runs north-south through central Indiana, provides a direct route to Indianapolis and other regional destinations. In addition, State Road 37 connects Fishers to the neighboring communities of Noblesville and Carmel.
While public transportation options are somewhat limited within Fishers itself, residents can access the Indianapolis metropolitan area's public transit system by utilizing nearby park-and-ride facilities. Carpooling and ridesharing services are also popular among Fishers residents for commuting and local travel.
In summary, Fishers, Indiana is a thriving suburban community that offers residents a high quality of life, exceptional educational opportunities, and a wide range of attractions and activities. Its close proximity to Indianapolis ensures easy access to the amenities and opportunities of a major city while maintaining the charm and community spirit of a smaller town. We hope this guide has provided a comprehensive look at Fishers and inspired you to explore all that this wonderful town has to offer.
Sports and Recreation in Fishers
Fishers residents enjoy a variety of sports and recreational activities, both as participants and spectators. From youth sports leagues and recreational facilities to cheering on local high school teams and attending professional sporting events in nearby Indianapolis, sports enthusiasts have plenty of options to choose from.
Youth Sports Leagues: Fishers offers a wide range of youth sports programs through the local parks department and various community organizations. Children can participate in soccer, baseball, basketball, football, and many other sports, providing opportunities for skill development, physical activity, and social interaction.
Recreational Facilities: The town's extensive park system and community centers provide residents with numerous options for staying active and engaged in sports and fitness activities. Facilities include basketball courts, tennis courts, swimming pools, and fitness centers, ensuring that residents have access to a wide range of recreational opportunities.
High School Athletics: Fishers is home to two high schools, Fishers High School and Hamilton Southeastern High School, both of which boast competitive sports programs in a variety of disciplines. Local residents enjoy supporting their schools' teams and attending games and matches throughout the year.
Indianapolis Sports Scene: Fishers' close proximity to Indianapolis allows residents to easily attend professional and collegiate sporting events in the city. Major sports teams in the area include the Indianapolis Colts (NFL), Indiana Pacers (NBA), Indianapolis Indians (MiLB), and Indy Eleven (USL). Additionally, the city hosts major sporting events like the Indianapolis 500, the Brickyard 400, and the Big Ten Football Championship Game.
Arts and Culture in Fishers
While Fishers may be a suburban community, it still offers residents access to a variety of arts and cultural experiences. From local theatre productions and art galleries to easy access to the renowned arts scene in nearby Indianapolis, Fishers residents can enjoy a rich cultural life.
Fishers Arts Council: This nonprofit organization is dedicated to promoting and supporting the arts in Fishers. Through events, exhibitions, and educational programs, the Fishers Arts Council helps to foster a thriving arts community within the town.
Theater Productions: Local theater groups, such as the Fishers Community Chorus and Fishers Youth Theatre, provide residents with the opportunity to attend high-quality live performances close to home. Additionally, nearby Indianapolis boasts a vibrant theater scene with professional and community theater companies offering a diverse array of productions throughout the year.
Art Galleries and Studios: Fishers is home to several art galleries and studios that showcase the work of local and regional artists. These spaces provide an opportunity for residents to explore and engage with the visual arts, and many also offer classes and workshops for those interested in honing their own artistic skills.
Indianapolis Cultural Attractions: Fishers residents have easy access to the world-class arts and cultural institutions of Indianapolis, such as the Indianapolis Museum of Art, Eiteljorg Museum of American Indians and Western Art, and the Indiana Repertory Theatre. These venues offer a diverse range of exhibits, performances, and events, ensuring that Fishers residents can enjoy a rich cultural life without venturing far from home.
In conclusion, Fishers, Indiana, is a vibrant suburban community that offers residents a well-rounded lifestyle with a mix of educational, recreational, and cultural opportunities. Its close proximity to Indianapolis ensures that residents can easily access the amenities and opportunities of a major city while still enjoying the charm and community spirit of a smaller town. With its excellent schools, diverse attractions and activities, and strong sense of community, Fishers is an ideal place to call home.
Volunteer Opportunities and Community Involvement in Fishers
One of the factors that contribute to the strong sense of community in Fishers is the town's thriving volunteer and community involvement scene. There are numerous opportunities for residents to give back to their community, make a difference, and foster connections with their neighbors. Some of the organizations and programs that welcome volunteer participation include:
Fishers Parks and Recreation: Volunteers are always welcome to help with various park projects, special events, and youth programs organized by the Fishers Parks and Recreation Department. Volunteering with the parks department is a great way to contribute to the community's green spaces and recreational facilities while also connecting with fellow residents who share a passion for the outdoors.
Fishers Youth Assistance Program: This organization focuses on providing support and resources to at-risk youth in the Fishers community. Volunteers can mentor young people, assist with tutoring and academic support, or help with special events and fundraisers that benefit the program.
Meals on Wheels: Volunteers are needed to deliver meals to homebound seniors in the Fishers area, ensuring that they receive nutritious meals and a friendly visit from a caring community member.
Local Schools and PTOs: Fishers' schools often welcome volunteers to assist with various projects, events, and programs. Getting involved with a school's Parent-Teacher Organization (PTO) is a great way for parents to support their child's education and contribute to the broader school community.
By getting involved in volunteer and community organizations, Fishers residents can make a positive impact on their town while also building connections and fostering a sense of belonging within the community.
Fishers, Indiana, is a thriving suburban community that offers its residents an exceptional quality of life. With its top-rated schools, diverse array of attractions and activities, strong sense of community, and opportunities for involvement, Fishers is a truly special place to call home. We hope this comprehensive guide has provided you with an in-depth look at what makes Fishers, Indiana, unique and has inspired you to explore all that this wonderful town has to offer.