Indianapolis Indiana - EIFS Contractor
The Premier EIFS Contractor Serving Indianapolis, Indiana
Why Indian Wall Systems is the Best EIFS Option in Indianapolis
Exterior Insulation and Finish Systems (EIFS) have become a popular choice for both commercial and residential buildings due to their energy efficiency, durability, and aesthetic appeal. As the demand for EIFS grows, so does the importance of choosing a reliable and professional service provider to ensure the best results. Indian Wall Systems has emerged as a leading EIFS provider in Indianapolis, thanks to its quality workmanship, customer-centric approach, and commitment to using top-tier materials.
Indiana Wall Systems Company Profile
Established in Indianapolis, Indian Wall Systems has built a solid reputation as an EIFS specialist with a strong focus on quality and customer satisfaction. The company offers a comprehensive range of services, including EIFS installation, repair, maintenance, and consulting services, and has been for 22 years.
A key aspect of their success is their dedication to working with top EIFS manufacturers, ensuring that their customers receive the best materials and systems available in the market. This commitment, combined with their highly skilled technicians and innovative design options, allows Indian Wall Systems to deliver tailored solutions for each project they undertake.
Benefits of Choosing Indian Wall Systems for Your EIFS Needs
When you choose Indian Wall Systems for your EIFS installation, repair, or maintenance needs, you can expect a range of benefits that set them apart from their competitors:
Expertise and experience: Indian Wall Systems boasts a team of highly skilled technicians who have undergone extensive training in EIFS installation and repair. Their impressive portfolio of successful projects showcases their ability to handle a wide variety of building types and designs.
Quality materials and systems: By partnering with industry-leading EIFS manufacturers, Indian Wall Systems ensures that its clients receive advanced, eco-friendly products that deliver top performance, energy efficiency, and durability.
Customized solutions: Indian Wall Systems takes a tailored approach to each project, providing innovative design options that cater to the specific needs and preferences of their clients. This personalized approach ensures that the result is both functional and aesthetically pleasing.
Exceptional customer service: From the initial consultation to the completion of the project, Indian Wall Systems maintains a client-focused approach, ensuring clear communication and full transparency throughout the entire process.
Case Studies: Indian Wall Systems' EIFS Success Stories
Indian Wall Systems has completed numerous successful EIFS projects for both commercial and residential buildings, earning them a reputation for excellence in the Indianapolis area. These case studies highlight their ability to deliver exceptional results across diverse project types:
Commercial projects: Indian Wall Systems has completed a variety of commercial EIFS installations, including retail centers, office buildings, and hotels. Satisfied clients have praised the company's attention to detail, timely project completion, and superior workmanship.
Residential projects: Homeowners who have chosen Indian Wall Systems for their EIFS needs have been impressed by the company's professionalism, design expertise, and commitment to using top-quality materials. These projects showcase the company's ability to enhance the beauty and energy efficiency of residential properties.

Understanding the EIFS Installation Process with Indian Wall Systems
Indian Wall Systems follows a structured approach to EIFS installation, ensuring that each project is completed with the highest level of quality and professionalism:
Initial consultation and assessment: During the initial meeting, Indian Wall Systems experts assess the client's needs and preferences, discuss design options, and provide an overview of the project timeline and costs.
Design and material selection: Based on the client's requirements, Indian Wall Systems will create a customized design plan and recommend the most suitable materials and systems to achieve the desired outcome.
Installation and quality assurance: Skilled technicians carry out the EIFS installation, adhering to strict industry standards and manufacturer guidelines. Regular quality checks are conducted throughout the process to ensure that the project meets or exceeds expectations.
Maintenance and repair services: Indian Wall Systems understands the importance of keeping EIFS in top condition to maintain its performance and aesthetics. They offer maintenance and repair services, ensuring the long-lasting durability of their client's investments.
Choosing the right EIFS provider is crucial for a successful project, and Indian Wall Systems stands out as the best option in Indianapolis. With their expertise, experience, commitment to quality materials, customized solutions, and exceptional customer service, they consistently deliver outstanding results for both commercial and residential projects.
If you're considering EIFS for your building or in need of EIFS repair or maintenance services, don't hesitate to reach out to Indian Wall Systems. Their team of professionals is ready to provide a consultation or quote, ensuring that your EIFS project is in the best hands possible.
Choose Indiana Wall Systems for the Best EIFS Services in Indianapolis

Indiana Wall Systems stands out as the premier EIFS contractor in Indianapolis, Indiana, thanks to their skilled professionals, comprehensive services, and unwavering commitment to customer satisfaction. Choose Indiana Wall Systems for all your EIFS repair, installation, and construction needs, and experience the difference for yourself.
Commitment to Quality and Safety
Use of High-Quality Materials Indiana Wall Systems understands the importance of using high-quality materials for all EIFS projects. They source the best products in the industry, ensuring durability, energy efficiency, and long-lasting beauty for your property.
Strict Adherence to Safety Standards Safety is a top priority for Indiana Wall Systems. Their team adheres to strict safety standards and guidelines, ensuring that all EIFS projects are completed with the highest level of care and professionalism.
Eco-Friendly Solutions
Energy-Efficient EIFS Systems Indiana Wall Systems recognizes the importance of energy efficiency and sustainability. They specialize in installing EIFS systems that provide superior insulation, reducing energy consumption and lowering your utility bills.
Environmentally Conscious Practices The team at Indiana Wall Systems is dedicated to minimizing their environmental impact. They use eco-friendly materials and practices whenever possible, and they constantly strive to improve their processes to reduce waste and emissions.
Competitive Indianapolis Pricing and Financing Options
Fair and Transparent Pricing Indiana Wall Systems is committed to providing competitive pricing for their EIFS services without compromising on quality. We offer transparent quotes with no hidden fees, ensuring you get the best value for your investment.
Flexible Financing Solutions To make EIFS projects more accessible, Indiana Wall Systems offers a variety of financing options to suit different budgets and financial situations. Our team will work with you to find a solution that meets your needs and helps you achieve your property improvement goals.
Trust Indiana Wall Systems for Unparalleled EIFS Services in Indianapolis

Indiana Wall Systems' expertise, comprehensive services, commitment to customer satisfaction, and dedication to quality and safety make them the premier choice for EIFS services in Nineveh, Indiana. With eco-friendly solutions, competitive pricing, and flexible financing options, they truly stand out from the competition. Choose Indiana Wall Systems for all your EIFS repair, installation, and construction needs, and experience their exceptional service for yourself.
How can I get a quote for EIFS services from Indiana Wall Systems?
To obtain a quote for your Nineveh EIFS project, contact Indiana Wall Systems directly via contact form or by phone. Our team will be happy to discuss your needs and provide a detailed estimate.
Discover Indianapolis: The Heart of Indiana
A Brief Introduction to Indianapolis
Welcome to Indianapolis, the vibrant capital of Indiana and the largest city in the state. Known as the "Crossroads of America," this bustling metropolis is renowned for its rich history, diverse culture, and thriving sports scene. Let's take a journey through the city's unique offerings and explore the must-see attractions, events, and experiences that make Indianapolis an unforgettable destination.
Iconic Landmarks and Attractions
Indianapolis is home to an array of famous landmarks and attractions that cater to a wide range of interests:
Indianapolis Motor Speedway: A world-famous racing circuit that hosts the prestigious Indy 500, an annual event drawing race enthusiasts from all corners of the globe.
Children's Museum of Indianapolis: The largest children's museum globally, offering interactive exhibits and experiences that inspire learning, creativity, and discovery for all ages.
White River State Park: A sprawling urban park featuring green spaces, walking trails, and various cultural institutions, including the Indiana State Museum and the Eiteljorg Museum of American Indians and Western Art.
Monument Circle: The symbolic heart of the city, showcasing the iconic Soldiers and Sailors Monument and hosting numerous events and festivals throughout the year.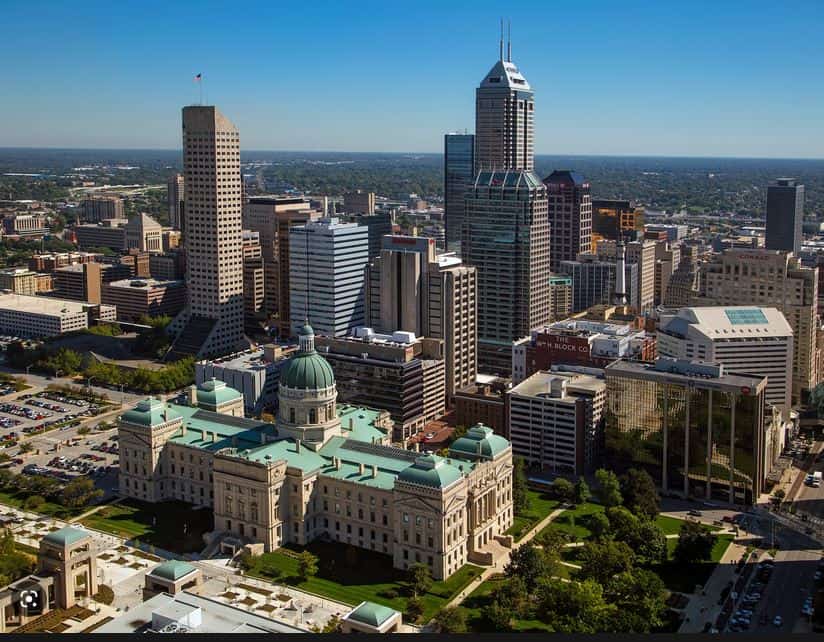 Outdoor Adventures in Indianapolis
Nature lovers will find plenty of opportunities to enjoy the great outdoors in and around Indianapolis:
Eagle Creek Park: One of the largest city parks in the United States, offering a range of outdoor activities, including hiking, birdwatching, and watersports.
Indianapolis Cultural Trail: An innovative urban trail system that connects the city's cultural districts, parks, and neighborhoods, providing a scenic and accessible route for walking, biking, and exploring.
Central Canal: A historic waterway that offers picturesque views and recreational opportunities, including paddleboat and gondola rides, as well as peaceful walking and jogging paths.
Fort Harrison State Park: A tranquil park featuring miles of hiking and biking trails, fishing opportunities, and even a championship golf course for outdoor enthusiasts.
Indianapolis' Thriving Arts and Culture Scene
The city's arts and culture scene is thriving, with various venues and events celebrating creativity and expression:
Indianapolis Museum of Art: Located within the beautiful Newfields campus, this museum boasts an extensive collection of art spanning 5,000 years of history.
Indiana Repertory Theatre: A premier regional theatre offering a mix of classic and contemporary productions to engage and entertain audiences.
First Friday Art Walk: A monthly event that showcases local galleries, studios, and artists, providing a unique opportunity to explore the city's art scene.
Festivals and Events
Indianapolis hosts an array of exciting festivals and events throughout the year, celebrating the city's diverse culture and community spirit:
Indiana State Fair: An annual event featuring agricultural exhibits, live entertainment, and a myriad of food vendors, drawing visitors from across the state and beyond.
Circle City IN Pride: A week-long celebration of the LGBTQ+ community, culminating in a vibrant festival and parade.
Devour Indy: A biannual restaurant week event that highlights the city's thriving culinary scene, offering special prix-fixe menus at participating eateries.
A Taste of Indianapolis: Culinary Delights
Indianapolis boasts a diverse culinary scene that caters to all tastes and preferences:
St. Elmo Steak House: A historic steakhouse that has been serving up mouthwatering steaks and its famous shrimp cocktail since 1902.
Bluebeard: A contemporary eatery housed in a renovated warehouse, offering farm-to-table dishes inspired by the city's rich literary heritage.
City Market: A bustling marketplace that brings together local vendors, artisans, and food purveyors, providing a taste of Indianapolis' culinary diversity.
Even More to Experience in Indianapolis, Indiana
Indianapolis, Indiana, is a city teeming with excitement and charm, offering visitors a unique blend of history, culture, and entertainment. From iconic landmarks like the Indianapolis Motor Speedway and Monument Circle to its thriving arts and culture scene, there's no shortage of attractions and experiences to enjoy. With a diverse array of festivals and events, a dynamic culinary scene, and ample opportunities for outdoor adventure, Indianapolis truly offers something for everyone.
Shopping and Entertainment in Indianapolis
Indianapolis offers a wide range of shopping and entertainment options to cater to every taste and preference:
Circle Centre Mall: Located in the heart of downtown, this expansive shopping center features popular retail stores, dining options, and entertainment venues, making it a one-stop destination for shoppers.
Mass Ave: A vibrant, artsy district filled with eclectic boutiques, galleries, theaters, and restaurants, perfect for a leisurely stroll and unique shopping experience.
Keystone at the Crossing: An upscale shopping destination that boasts a mix of high-end retailers, fine dining establishments, and luxury hotels.
Bankers Life Fieldhouse: Home to the NBA's Indiana Pacers and the WNBA's Indiana Fever, this state-of-the-art arena also hosts concerts, family events, and more throughout the year.
Educational Institutions in Indianapolis
Indianapolis is home to several esteemed educational institutions, attracting students from across the nation and around the world:
Indiana University-Purdue University Indianapolis (IUPUI): A top-ranked public research university offering a wide range of undergraduate, graduate, and professional programs.
Butler University: A prestigious private institution known for its strong liberal arts and professional education programs, as well as its commitment to community engagement.
Marian University: A private, Catholic university dedicated to fostering academic excellence, leadership development, and community service.
Getting Around Indianapolis
Indianapolis offers a variety of transportation options to help visitors navigate the city with ease:
IndyGo: The city's public transportation system, featuring a network of bus routes and the newly inaugurated Red Line, a rapid transit service connecting key destinations throughout the city.
BlueIndy: A convenient electric car-sharing service that allows users to rent vehicles on a short-term basis, providing an eco-friendly option for getting around town.
Indiana Pacers Bikeshare: A bike-sharing program offering over 500 bikes at 50 stations across the city, providing a fun and healthy way to explore Indianapolis.
Experience the Best of Indianapolis, Indiana
From its rich history and diverse cultural offerings to its exciting events and attractions, Indianapolis, Indiana, is a city that has something for everyone. Whether you're looking to enjoy world-class museums, vibrant shopping districts, or thrilling sporting events, Indianapolis offers a multitude of experiences that will leave you with lasting memories. With its welcoming Midwestern charm and countless attractions, Indianapolis is truly a must-visit destination in the heart of Indiana.
Indiana Wall Systems: Your Trusted Partner in the Indianapolis Area
As you explore the vibrant city of Indianapolis and its surrounding areas, you'll undoubtedly come across stunning architecture and well-maintained buildings that contribute to the region's charm. Central to this beauty and structural integrity is Indiana Wall Systems, a trusted name in the construction and repair of walls and exteriors throughout the region.
With years of experience and a team of skilled professionals, Indiana Wall Systems has been providing top-notch services to Indianapolis and the surrounding communities, ensuring the lasting appeal and structural soundness of homes and commercial properties. Whether you're in need of stucco repair, EIFS installation, or masonry work, Indiana Wall Systems is your go-to partner for all your exterior needs.
So, as you enjoy the bustling city of Indianapolis and marvel at its architectural wonders, remember that Indiana Wall Systems is here to help you maintain the beauty and integrity of your own property. Don't wait any longer—take the first step towards enhancing your home or business and discover how our team of experts can transform your property into a true Indianapolis gem.
Top FAQs About Indianapolis, Indiana
Q: What is Indianapolis, Indiana, best known for?
A: Indianapolis is best known for the Indianapolis Motor Speedway, home of the legendary Indy 500, as well as its rich cultural heritage and vibrant arts scene.
Q: What are some must-see attractions in Indianapolis?
A: Must-see attractions in Indianapolis include the Indianapolis Motor Speedway, Children's Museum of Indianapolis, White River State Park, Monument Circle, and the Indianapolis Museum of Art.
Q: What are some popular outdoor activities in Indianapolis?
A: Popular outdoor activities in Indianapolis include exploring Eagle Creek Park, walking or biking the Indianapolis Cultural Trail, enjoying the Central Canal, and visiting Fort Harrison State Park.
Q: What is the food scene like in Indianapolis?
A: Indianapolis has a diverse food scene, featuring historic steakhouses like St. Elmo Steak House, farm-to-table eateries like Bluebeard, and bustling marketplaces like City Market.