Camby Indiana - EIFS Contractor
The Premier EIFS Contractor Serving Camby, Indiana
Why Choose Indiana Wall Systems for Your EIFS Needs in Camby?
Indiana Wall Systems stands out as the leading EIFS repair, installation, and construction contractor in Camby, Indiana. With a team of highly skilled professionals and a commitment to customer satisfaction, they consistently outperform their competitors. Discover the reasons why Indiana Wall Systems is the go-to choice for EIFS services in Camby.
Expertise and Experience
Highly Skilled Professionals Indiana Wall Systems boasts a team of experienced and certified EIFS professionals who are dedicated to delivering top-notch workmanship. Their extensive training and hands-on experience ensure that your EIFS project will be handled with the utmost care and expertise.
Proven Track Record With a long history of successful projects in Camby and the surrounding areas, Indiana Wall Systems has built a solid reputation for quality work and exceptional customer service. Their portfolio of satisfied clients speaks volumes about their commitment to excellence.
Complete EIFS Services Camby

Repair and Maintenance Indiana Wall Systems specializes in EIFS repair and maintenance, helping to extend the life of your system and maintain its efficiency. Their skilled team is capable of addressing a wide range of issues, from cracks and water damage to routine maintenance.
Installation and Construction As experts in EIFS installation and construction, Indiana Wall Systems can handle projects of all sizes, from small residential applications to large commercial buildings in Camby. Their attention to detail and adherence to industry best practices ensure a high-quality result that stands the test of time.
Camby Customer Satisfaction
Personalized Solutions Indiana Wall Systems takes the time to understand each client's unique needs and preferences, tailoring their approach to provide personalized solutions. This focus on customization sets them apart from their competitors and ensures a seamless, satisfying experience for their clients.
Exceptional Support The team at Indiana Wall Systems is committed to providing outstanding support throughout every phase of your EIFS project. From the initial consultation to the final walkthrough, their experts are always available to address any concerns and ensure your complete satisfaction.
Choose Indiana Wall Systems for the Best EIFS Services in Camby

Indiana Wall Systems stands out as the premier EIFS contractor in Camby, Indiana, thanks to their skilled professionals, comprehensive services, and unwavering commitment to customer satisfaction. Choose Indiana Wall Systems for all your EIFS repair, installation, and construction needs, and experience the difference for yourself.
Commitment to Quality and Safety in Camby

Use of High-Quality Materials Indiana Wall Systems understands the importance of using high-quality materials for all EIFS projects. They source the best products in the industry, ensuring durability, energy efficiency, and long-lasting beauty for your property.
Strict Adherence to Safety Standards Safety is a top priority for Indiana Wall Systems. Their team adheres to strict safety standards and guidelines, ensuring that all EIFS projects are completed with the highest level of care and professionalism.
Eco-Friendly Solutions for Camby, Indiana

Energy-Efficient EIFS Systems Indiana Wall Systems recognizes the importance of energy efficiency and sustainability. They specialize in installing EIFS systems that provide superior insulation, reducing energy consumption and lowering your utility bills.
Environmentally Conscious Practices The team at Indiana Wall Systems is dedicated to minimizing their environmental impact. They use eco-friendly materials and practices whenever possible, and they constantly strive to improve their processes to reduce waste and emissions.
Competitive Camby Pricing and Financing Options
Fair and Transparent Pricing Indiana Wall Systems is committed to providing competitive pricing for their EIFS services without compromising on quality. We offer transparent quotes with no hidden fees, ensuring you get the best value for your investment.
Flexible Financing Solutions To make EIFS projects more accessible, Indiana Wall Systems offers a variety of financing options to suit different budgets and financial situations. Our team will work with you to find a solution that meets your needs and helps you achieve your property improvement goals.
Trust Indiana Wall Systems for Unparalleled EIFS Services in Camby

Indiana Wall Systems' expertise, comprehensive services, commitment to customer satisfaction, and dedication to quality and safety make them the premier choice for EIFS services in Camby, Indiana. With eco-friendly solutions, competitive pricing, and flexible financing options, they truly stand out from the competition. Choose Indiana Wall Systems for all your EIFS repair, installation, and construction needs, and experience their exceptional service for yourself.
How can I get a quote for EIFS services from Indiana Wall Systems?
To obtain a quote for your Camby EIFS project, contact Indiana Wall Systems directly via contact form or by phone. Our team will be happy to discuss your needs and provide a detailed estimate.
Welcome to Camby, Indiana: A Hidden Gem in the Hoosier State
Camby, Indiana, a cozy and welcoming community located in the heart of the state, offers an array of attractions and amenities for residents and visitors alike. Discover all that Camby has to offer, from its local landmarks and recreational opportunities to its annual events and festivals.
Education and Schools in Camby
Camby is part of the Metropolitan School District of Decatur Township, which serves the educational needs of its residents. The district is known for its high-quality educational programs, dedicated staff, and focus on student success. Some of the schools serving Camby include:
Elementary Schools
Decatur Township School for Excellence
Bridgeport Elementary School
West Newton Elementary School
Middle School
High School
Decatur Central High School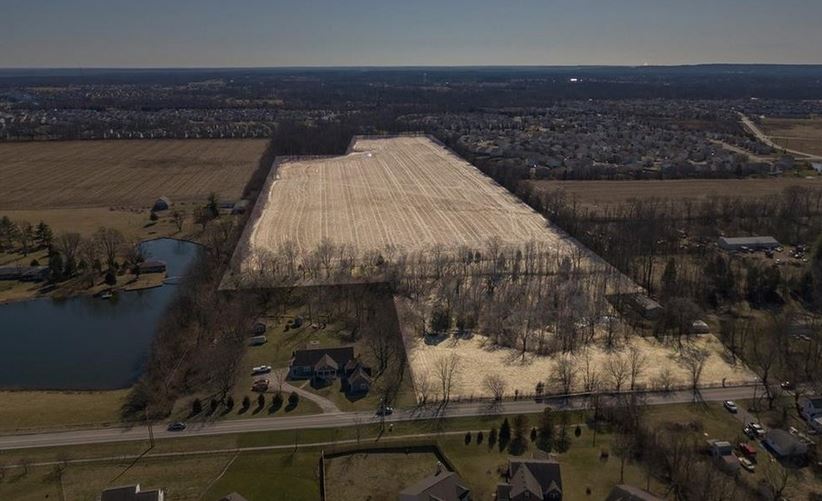 A Brief History of Camby Indiana
Camby, originally known as West Union, was established in the 1800s as a small agricultural community. Over the years, Camby has seen steady growth and development while still maintaining its rural charm and strong sense of community. Today, Camby is a vibrant and growing town, offering an excellent quality of life for its residents.
Local Attractions and Landmarks
Camby boasts a variety of local attractions and landmarks that showcase the town's history and natural beauty. Here are some of the must-see destinations in and around Camby:
Camby Community Park
This picturesque park features playgrounds, sports fields, picnic areas, and walking trails. Camby Community Park is the perfect spot for families and outdoor enthusiasts to enjoy some fresh air and relaxation.
Friendswood Golf Course
Located just a short drive from Camby, Friendswood Golf Course is a challenging and well-maintained 18-hole course that caters to golfers of all skill levels. With its beautiful surroundings and excellent facilities, Friendswood Golf Course is a popular destination for locals and visitors alike.
Heartland Crossing Golf Links
Heartland Crossing Golf Links, situated near Camby, is another fantastic option for golf enthusiasts. This 18-hole course, designed by renowned architect Ron Kern, offers challenging play and stunning scenery.
Recreation and Outdoor Activities
Camby offers numerous opportunities for residents and visitors to enjoy the great outdoors. Here are some popular recreational activities in the area:
Sodalis Nature Park
Sodalis Nature Park, located just a short drive from Camby, is a beautiful natural area that offers hiking trails, wildlife viewing, and birdwatching. This serene park is an ideal destination for nature lovers and those looking to escape the hustle and bustle of everyday life.
White River
The nearby White River provides ample opportunities for fishing, boating, and kayaking. With several access points in the vicinity, it's easy to spend a day on the water, taking in the scenic beauty of the surrounding area.
Annual Events and Festivals
Camby residents take pride in their community and come together to celebrate throughout the year. Some of the annual events and festivals include:
Camby Summer Festival
The Camby Summer Festival is a lively event featuring live music, food vendors, carnival games, and more. This family-friendly event is a fantastic way for locals and visitors to come together and celebrate the warm summer months.
Camby Fall Festival
When autumn rolls around, the Camby Fall Festival offers a fun-filled weekend of activities for the entire family. With hayrides, pumpkin decorating, and a scarecrow contest, this annual event is a beloved tradition for many Camby residents.
Dining and Nightlife
While Camby may be small, it boasts a variety of dining options and nightlife venues to satisfy a range of tastes. Here are some popular spots to grab a bite or enjoy a night out on the town:
The Rusty Anchor
The Rusty Anchor is a local favorite, offering delicious pub fare, a wide selection of beers, and a friendly atmosphere. With live music and trivia nights, this neighborhood bar is a great place to unwind after a long day.
Camby Kitchen
For a taste of home-style cooking, look no further than Camby Kitchen. This family-owned eatery serves up mouthwatering comfort food made from scratch, making it a go-to spot for locals and visitors alike.
Mooresville Pizzeria
Just a short drive from Camby, Mooresville Pizzeria offers a wide variety of delicious pizzas, pastas, and sandwiches. With their cozy atmosphere and friendly service, this pizzeria is a popular choice for families and groups.
Camby's Community Involvement and Organizations
Camby's residents are actively involved in various community organizations that contribute to the town's growth and development. These organizations offer a range of services and volunteer opportunities, enabling residents to make a difference in their community. Some of the prominent community organizations include:
Camby Community Association
The Camby Community Association is dedicated to improving the quality of life for all Camby residents. The association organizes community events, advocates for local improvements, and serves as a liaison between residents and local government.
Friends of the Camby Library
The Friends of the Camby Library is a volunteer organization that supports the local library by organizing fundraising events, sponsoring programs, and promoting literacy within the community. By joining this group, residents can help enrich the lives of their fellow community members through the power of reading and learning.
Camby Neighborhood Watch
The Camby Neighborhood Watch program aims to keep the community safe by encouraging residents to report suspicious activities and work together to prevent crime. This organization fosters a sense of unity and cooperation among neighbors, making Camby a safer and more enjoyable place to live.
Transportation and Accessibility
Camby's location makes it an easily accessible town for residents and visitors. With its close proximity to major highways and the Indianapolis International Airport, getting to and from Camby is a breeze.
Highways
Camby is conveniently located near Interstate 70 and State Road 67, providing easy access to nearby cities and attractions. These highways make commuting to Indianapolis or exploring the surrounding areas simple and efficient.
Indianapolis International Airport
Just a short drive from Camby, the Indianapolis International Airport offers a variety of domestic and international flights. This modern and well-maintained airport makes travel easy and stress-free for Camby residents and visitors alike.
Public Transportation
Although Camby does not have its own public transportation system, residents can take advantage of nearby Indianapolis' public transit options, including buses and the IndyGo system. This extensive network of buses and trains makes getting around the greater Indianapolis area convenient and affordable.
Housing and Real Estate in Camby
Camby offers a variety of housing options to suit different lifestyles and budgets. From charming single-family homes to modern apartments and townhomes, there's a perfect home waiting for you in Camby. The town's growing population and development have led to the construction of new residential communities, ensuring a steady supply of housing options for prospective buyers and renters.
Single-Family Homes
Camby's single-family homes range from cozy, historic properties to newly built residences with modern amenities. These homes often feature spacious yards, providing plenty of room for outdoor activities and gardening. With a mix of architectural styles and price points, there's a single-family home for everyone in Camby.
Apartments and Townhomes
For those looking for a low-maintenance lifestyle, Camby offers a selection of apartment complexes and townhomes. These properties often come with amenities such as fitness centers, swimming pools, and community spaces. With a variety of floor plans and rental rates, finding the perfect apartment or townhome in Camby is a breeze.
Healthcare Facilities
Camby residents have access to several healthcare facilities in the area, ensuring that medical care is readily available when needed. Some of the nearby healthcare facilities include:
St. Francis Hospital Mooresville
Hendricks Regional Health
IU Health West Hospital
These hospitals and medical centers offer comprehensive care, including emergency services, primary care, and specialized treatments.
Employment Opportunities
Camby's proximity to Indianapolis and surrounding communities offers a wealth of employment opportunities for its residents. Major industries in the area include healthcare, manufacturing, and retail. Additionally, the Indianapolis International Airport and nearby business parks provide numerous job opportunities in fields such as aviation, logistics, and technology.
In conclusion, Camby, Indiana, is a charming and thriving community that offers residents an excellent quality of life. Its rich history, diverse local attractions, and strong sense of community pride make it a fantastic place to call home. Whether you're looking to start a family, pursue a career, or simply enjoy a friendly, small-town atmosphere, Camby has something for everyone. Come and experience this hidden gem for yourself, and you'll quickly understand why so many people are proud to call Camby, Indiana, their home.
FAQs about Camby, Indiana
How far is Camby from Indianapolis?
A: Camby is located approximately 15 miles southwest of Indianapolis, making it a convenient option for those who want easy access to the big city while enjoying a quieter, small-town atmosphere.
What school district serves Camby?
Camby is part of the Metropolitan School District of Decatur Township. The district offers a variety of educational opportunities, including excellent public schools and a range of extracurricular activities.
Are there any shopping centers in Camby?
While Camby itself does not have a large shopping center, there are numerous shopping options available in the nearby communities of Mooresville, Plainfield, and Indianapolis. These areas offer a variety of retail stores, grocery options, and specialty shops to meet all of your shopping needs.
What is the population of Camby?
As of the last census, Camby has a population of around 15,000 residents. This close-knit community offers a welcoming atmosphere and strong sense of community spirit.