Showcasing Excellence in Building Facade Innovations with Indiana Wall Systems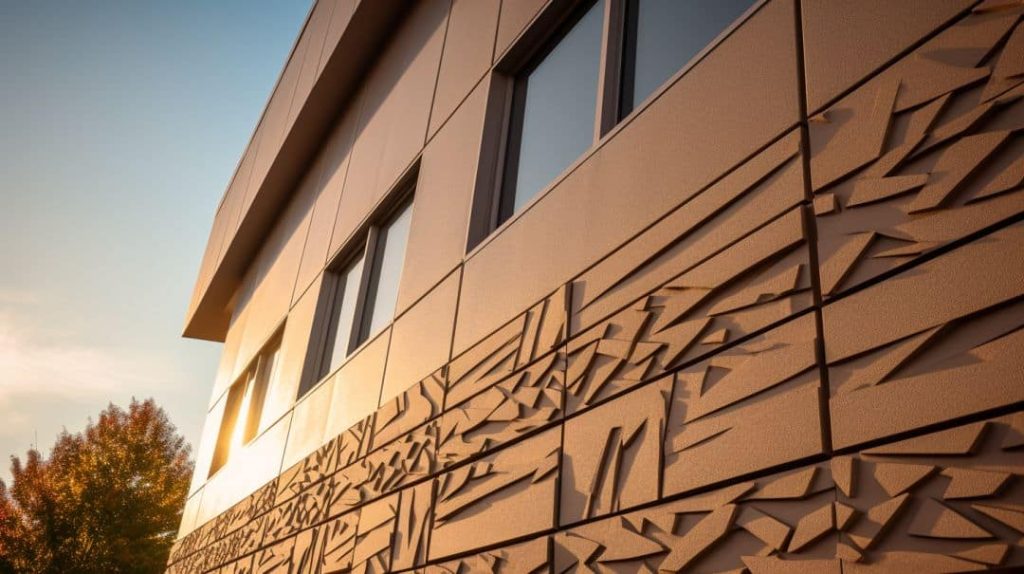 Building construction and renovation demand a keen eye for aesthetics and sustainability. Did you know that Dryvit Outsulation systems are trusted world over to enhance the appearance and longevity of building projects? In this blog post, we delve into how Indiana Wall Systems, a renowned Dryvit Sealant Contractor can revolutionize your construction game.
Intrigued? Read on for more insightful nuggets!
Key Takeaways
Indiana Wall Systems uses Dryvit Outsulation systems to improve the look and sustainability of building projects.
The company offers top-quality services, including new residential construction, large-scale commercial projects, and tuck-pointing on older structures.
Exterior Insulation and Finish System (EIFS) by Dryvit increases energy efficiency and reduces operating costs.
Services provided by Indiana Wall Systems include cultured stone works, plaster interiors, and brick restoration – all enhancing property value while meeting stringent environmental standards.
About Indiana Wall Systems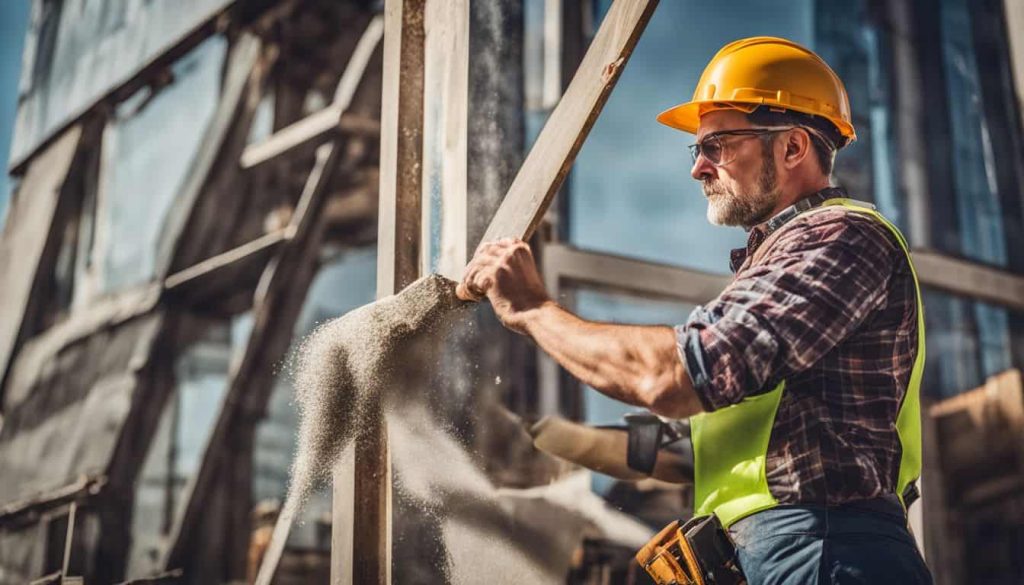 Indiana Wall Systems, a company based in Indiana, is known for its top-quality service and craftsmanship that's fair and honest. They are dedicated to enhancing the aesthetic appeal of building projects while maintaining sustainability.
The company specializes in Exterior Insulation and Finish System (EIFS), offering innovative solutions for all types of construction needs.
Reputation for fair, honest, world-class quality service and craftsmanship
Indiana Wall Systems has a well-established reputation for delivering top-tier, honest service and exemplary craftsmanship. Clients trust their exceptional skills rooted in years of experience and innovative methods in the industry.
The company operates with unyielding integrity, focusing on every detail to ensure customer satisfaction with each project undertaken. Notably, the professionals at Indiana Wall Systems have over 160 years of collective experience and have been stalwarts in EIFS construction and stucco repairs for over 22 years.
They are known to adhere strictly to building codes while ensuring sustainable practices across all operations, contributing positively towards greener buildings without compromising quality or aesthetics.
Furthermore, their expertise is made apparent through diverse successful projects that reflect unparalleled construction solutions from design to execution across residential, commercial, and industrial sectors.
Focus on enhancing appearance and sustainability in building projects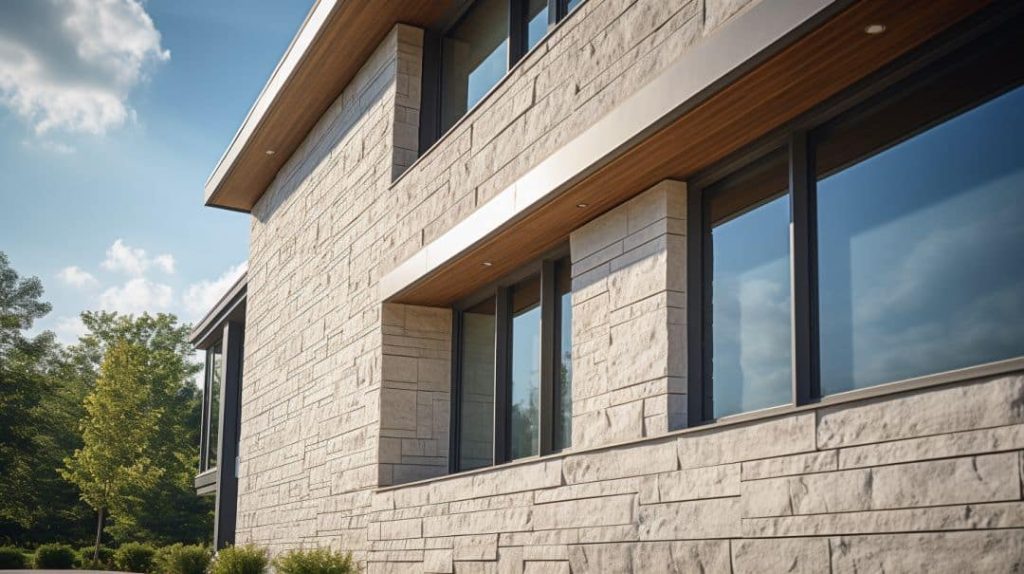 Architects, building owners, and contractors often depend upon Dryvit Outsulation systems provided by Indiana Wall Systems for enhancing the appearance and sustainability in their construction ventures.
The high-performance cladding system not only improves aesthetics but is also crafted to increase energy efficiency. As a result, operating costs are reduced significantly.
Dryvit Sealant Contractor, renowned as an instrumental player in the industry of EIFS (Exterior Insulation and Finish System) services emphasizes adopting continuous insulation technique within structure walls.
This aids in controlling energy flow more effectively while ensuring efficient conservation of power at the same time.
The use of continuous insulation eliminates thermal bridging experiences that may rely on extensive electricity consumption. Businesses can yield huge benefits from investing in synthetic exterior finish solutions offered by Indiana Wall Systems which specializes particularly in EIFS construction setup as well as stucco repairs.
Builders necessitating renovation interventions can greatly capitalize on the comprehensive suite of services delivered by Dryvit Sealant Contractor having profound expertise in aesthetic upliftment partnered with performance optimization stint during the reconstruction phase.
Integrating functionality with fashion is absolute when employing NewBrick – an innovative approach to wall coverage winning accolades for being lightweight yet robust insulated cover bringing forth eco-friendly solution endorsing green initiative goals amidst architects community worldwide.
Whether there's a need for new building projects or recuperation focus area calls; clients lean toward seeking professional consultation guidance offered through expert contractors within the Indiana Wall Systems team proficiently trained to carry out installation & maintenance activities related to Dryvit constructions against challenging architectural requests alike.
Bearing testimony towards influential role played towards sustaining environment friendly practices alongside catering panoramic design pursuits; it empowers property transformation propositions via auxiliary products made available thus fulfilling complete spectrum under single roof solution indeed!
Undeniably crafting success stories along way serves immense purpose providing superior outcome eventualities meeting customer delight associated demands eventually leading facilities dominated sector across built-environment industry into next level altogether leaving behind striking impressions ever since establishment back over two decades timeline milestone.
Manufacturing high on resilience quotient, Dryvit Outsulation systems have garnered sighting reliability levels promising commitment broadcasted by brand reiterating projects complying regulatory norms plus contributing ecological obligations through offering solid solutions adherent to green building principle ethics.
Specialization in EIFS (Exterior Insulation and Finish System)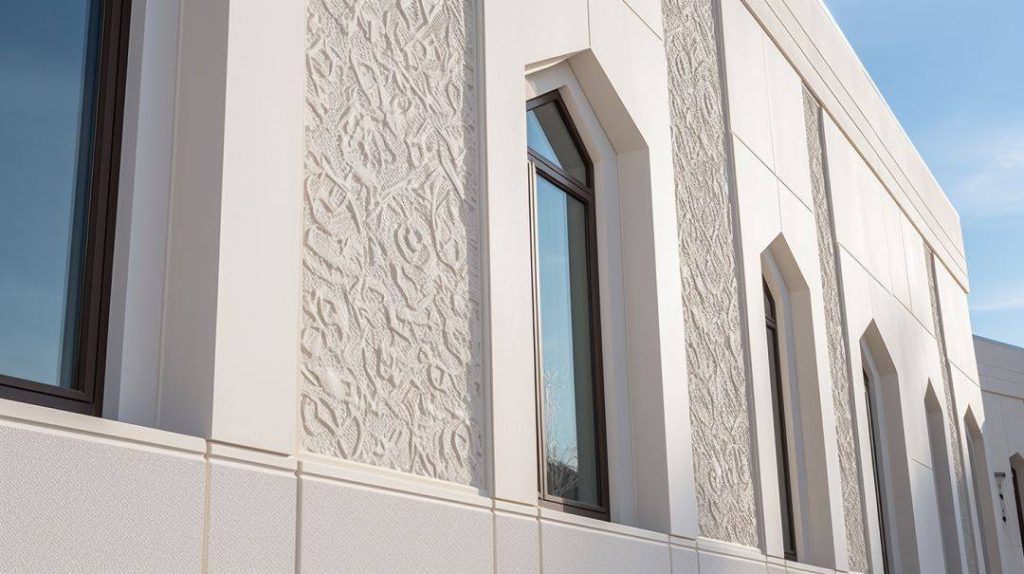 Indiana Wall Systems specializes in the installation and repair of Exterior Insulation and Finish System (EIFS). This high-performance cladding solution, known as Dryvit Outsulation, is integral to enhancing the appearance and sustainability of building projects.
The use of EIFS comes with a myriad of benefits such as improved energy efficiency and reduced operating costs. This is achieved through its unique ability to provide exterior continuous insulation which eliminates thermal bridging.
Not only does it positively impact energy conservation, but it also increases property appeal while adhering strictly to building code requirements. With an impressive collective experience spanning 160 years, our skilled contractors ensure top-notch services from initiation through completion.
Services Offered by Indiana Wall Systems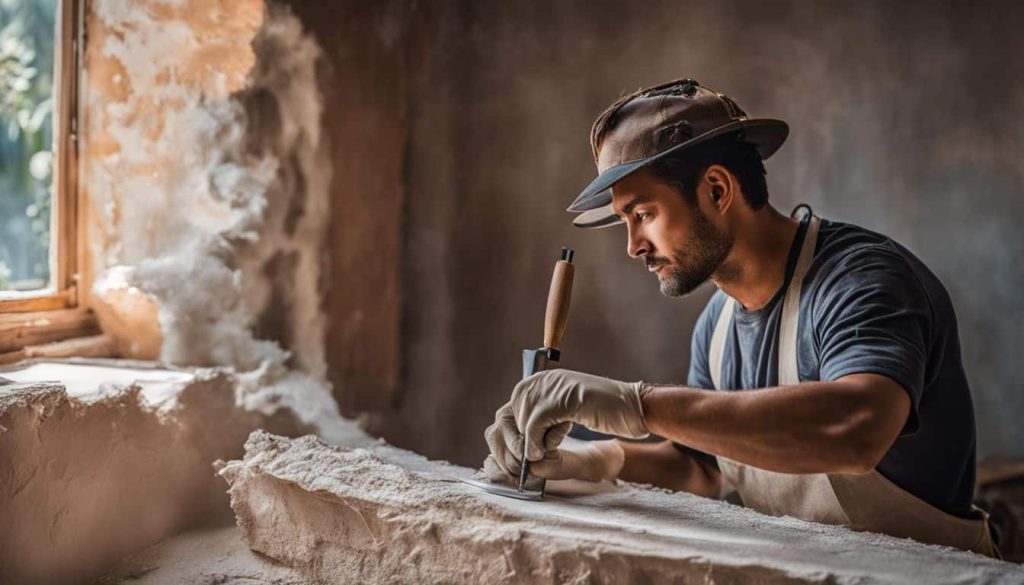 Indiana Wall Systems offers an array of services, including new residential construction and large-scale commercial projects. They employ in-house design and professional expertise to create impeccable wall systems.
The team specializes in crafting cultured stone and plaster interiors, providing brick restoration, and performing expert tuck pointing on older structures.
New Construction Residential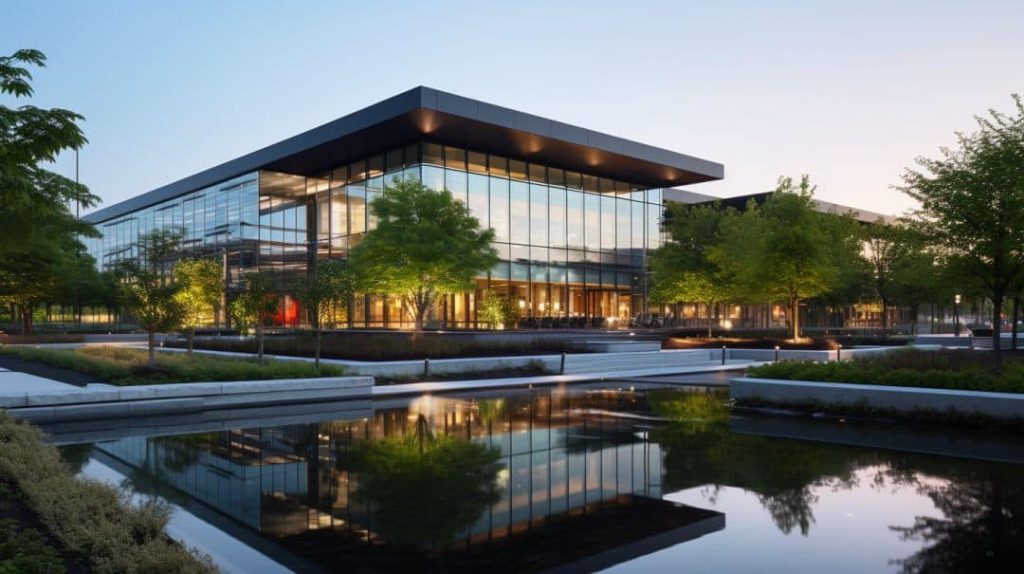 Indiana Wall Systems excels in the realm of new construction residential projects. Builders and homeowners alike entrust their abodes to these seasoned professionals, ensuring aesthetically pleasing fronts with energy-efficient benefits inside and out.
Leveraging Dryvit Outsulation systems, homes are clad with a high-performance exterior that optimizes temperature control while minimizing energy costs. Unique design elements can be readily incorporated without compromising the aforementioned utility advantages or weather-resistance capacity.
The versatility of this trusted wall system is irrefutable as it adapts to diverse architectural styles from traditional to contemporary builds. New homeowners benefit from enhanced property values because well-installed outsulation meets stringent building code requirements and does not demand replacements or repairs prematurely unlike some popular alternatives.
This segment's growth trajectory does not show signs of slowing any time soon reflecting its increasing relevance in sustainable constructions strategies across Indiana.
Large-scale unitized commercial and industrial projects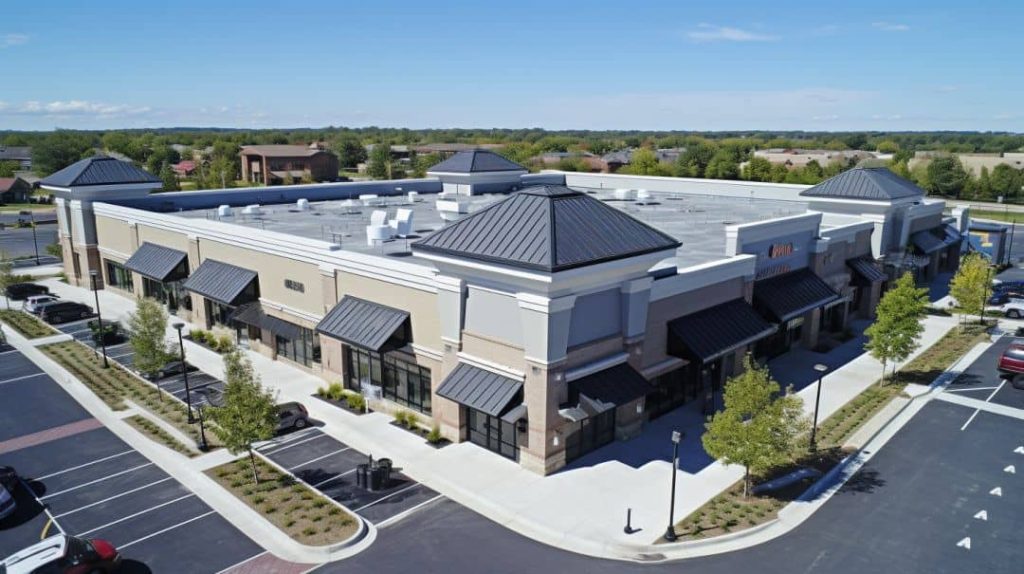 Indiana Wall Systems excels in handling large-scale unitized commercial and industrial projects. The company's vast experience with Dryvit Sealant has been instrumental in delivering world-class craftsmanship to these projects, ensuring superior structural resilience and aesthetic appeal.
Dryvit Outsulation systems are a preferred choice for countless architects, building owners, and contractors associated with large-scale developments. These systems not only contribute to the sustainability of such building ventures but also enhance their overall appearance significantly.
From innovative engineered bricks like NewBrick to proven exterior wall renovation solutions aimed at revitalizing infrastructure, Indiana Wall Systems consistently ensures impressive outcomes on all fronts.
Site teams possess top-tier professional expertise acquired from over 160 years of collective industry exposure. Leverage this indispensable asset to synergistically work towards executing project deliverables optimally while adhering strictly to specified deadlines.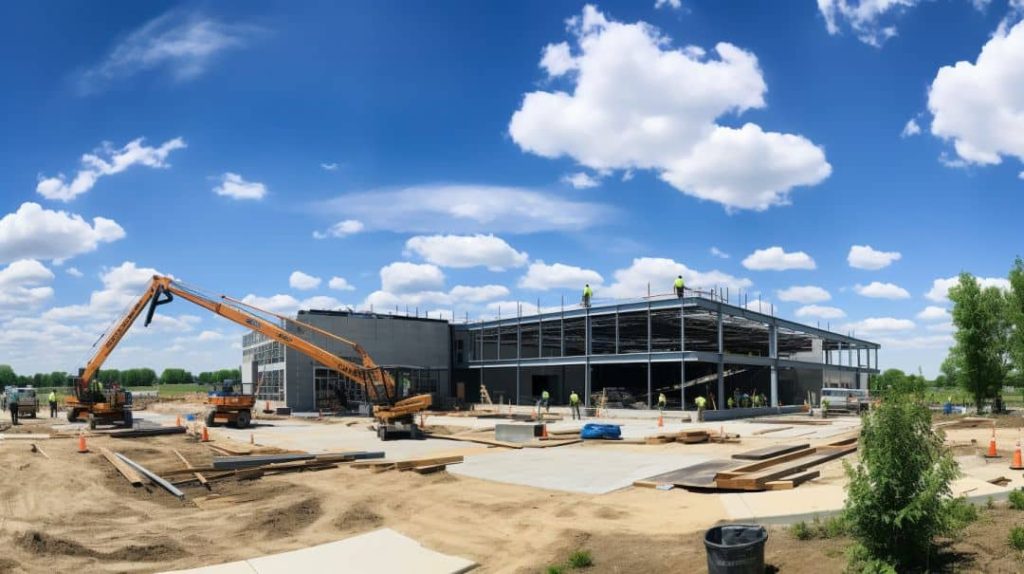 Redefining the boundaries set by traditional stucco through EIFS (Exterior Insulation and Finish System) construction techniques becomes paramount when dealing with bulky undertakings such as these.
Hence aiming for perfect coordination within all working aspects is essential.
The intentional focus that surrounds continuous insulation usage pinpoints an emphatic design effort aimed at heightened energy conservation coupled perfectly with more efficient facade support planning orientation strategies.
Hence whether your field pertains to constructing retail complexes or manufacturing facilities—working alongside Indiana Wall Systems guarantees remarkable progress updates throughout the entire project lifecycle continuum engrained smoothly within result-oriented delivery dynamics unheard-of within any competing enterprise vicinity vertigo circle oasis landscapes globally!
In-house design and professional expertise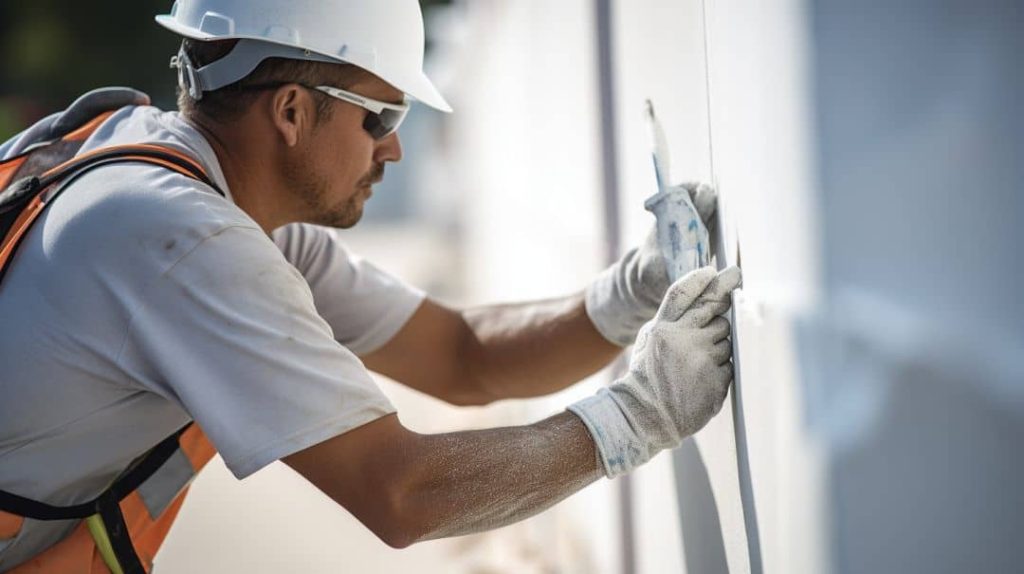 At Indiana Wall Systems, we place immense value on in-house design and professional expertise. Our skilled architectural designers work meticulously to create plans that invigorate your project aesthetics while meeting all environmental and safety standards.
These professionals harness years of industry experience coupled with a profound understanding of Dryvit systems application for optimal results. Simultaneously, our expert teams ensure precise implementation of these designs on-site, blending innovation with practicality to deliver durable solutions for new constructions and large-scale commercial projects alike.
Through this integration of top-notch design processes and deep-rooted industry knowledge, outstanding construction outcomes become the norm at Indiana Wall Systems.
Cultured stone and plaster interiors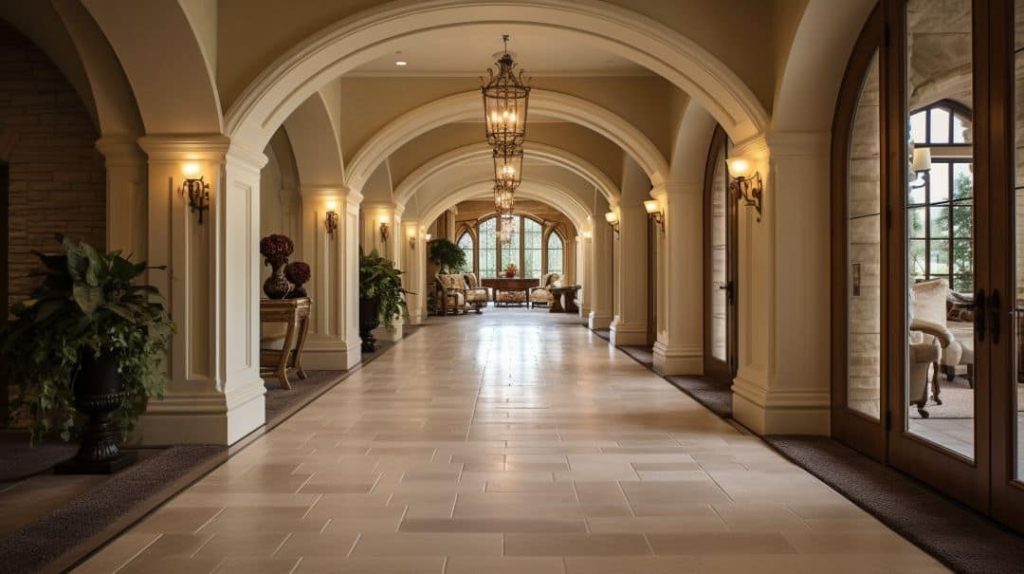 Cultured stone and plaster interiors provide an appealing combination of durability, aesthetics, and versatility. These materials create unique textures for inside surfaces while offering excellent insulation properties.
Indiana Wall Systems specialists apply cultured stone with precision, laying each piece carefully to mimic natural rock formations or traditional masonry works. Plaster application is a refined process practiced by skilled artisans who ensure smooth finishes tailor-made for elegant interior decoration.
These installations are resilient to wear and tear over time due to their robust nature; however, when circumstances demand attention, contractors proficient in repair services take care of them efficiently.
Selecting such integrity-filled design elements contributes positively towards the value-enhancement of your building projects.
Brick restoration and tuck pointing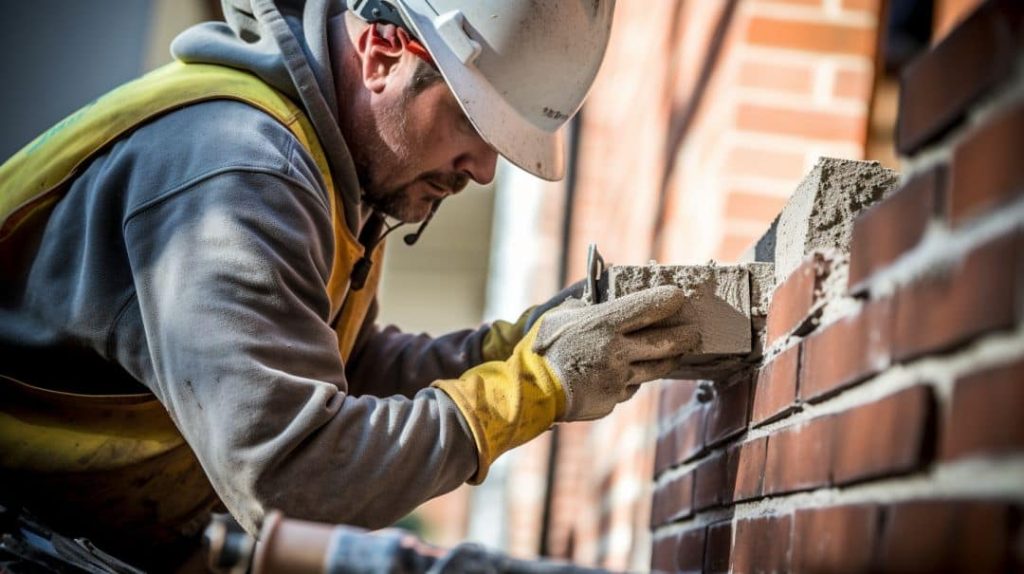 Brick restoration
and
tuck pointing
are vital services offered by Indiana Wall Systems. Over time, bricks can deteriorate due to
weathering, staining, or structural distress
. Our skilled team brings these structures back to life with precise restoration work, safeguarding the lifespan of your building while preserving its visual appeal.
Meanwhile, tuck pointing addresses worn-out mortar joints between bricks or stones using a two-step process that not only repairs but enhances the façade's overall appearance. It's considered an investment towards maintaining the longevity and aesthetic value of brickwork in any structure.
Whether for historical landmarks or modern constructions – we ensure quality craftsmanship in every project entrusted to us.
Benefits of Dryvit Sealant Contractor Services
Engaging Dryvit sealant contractor services brings a 10-year warranty to your project, offering re-imagined protection for all building substrates. With finishes and shapes designed to enhance the versatility in design possibilities, these services also offer accessory products meant to improve overall wall systems.
Guaranteed 10-year warranty
A significant advantage of opting for services from Indiana Wall Systems is the guaranteed 10-year warranty on all Dryvit Outsulation systems. This assurance highlights the durability and resilience offered by these high-performance cladding systems, allowing customers to invest in their projects with an added layer of security.
With a decade-long promise, this warranty represents our commitment to deliver superior quality service and products consistently. It signifies trust in our product's longevity and protection against unforeseen repair costs that might occur over time.
Your investment gets ensured protection when you choose Dryvit Sealant Contractor Indiana Wall Systems — no worries about system failure or unnecessary monetary drains for ten full years! Now, isn't that refreshing?.
Re-imagining the protection of building substrates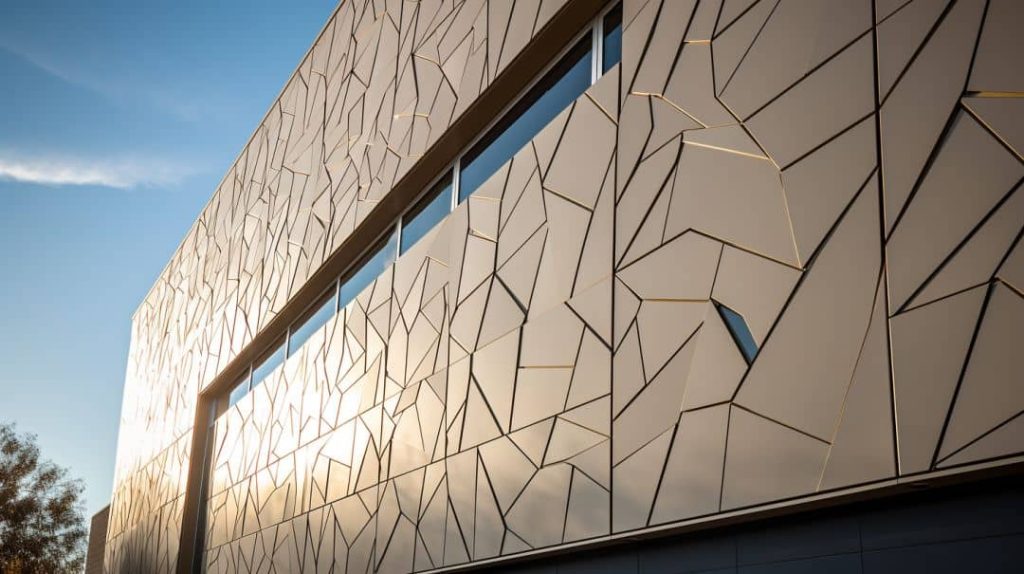 Innovation powers the protection of building substrates at Indiana Wall Systems. Using high-performing Dryvit Outsulation systems, the company ensures superior cladding performance with exterior continuous insulation (CI).
Advances in CI empower excellent control over energy flow and greater conservation of energy. The outcome? Substrate protection that doesn't compromise on appearance or efficiency.
Equally remarkable is the ability to eliminate thermal bridging entirely, pushing efficiencies further while minimizing operating costs for building managers. Not only does this promote sustainable construction practices but also gives an attractive finish regardless of project size or scope.
Brandishing a legacy over 160 years long, Indiana Wall Systems continues its relentless pursuit towards optimal stucco repairs and EIFS construction methodologies pioneered by their skilled contractors.
Driven by uncompromising standards in craftsmanship & service quality, every application involving Dryvit Sealant makes resilience tangible through long-lasting durability coupled with stalwart aesthetics.
The result is well anticipated – persistent substrate integrity unaffected by inclement weather conditions or time itself! Sustainability gets redefined as outsulation boosts overall property value whilst consistently meeting stringent building code requirements without any redundant compromise whatsoever- no easy feat indeed!
Complimenting these features even further are innovative offerings such as NewBrick – an engineered brick solution delivering unparalleled flexibility right alongside lightweight insulation benefits plus formidable sustainability quotient aiding architects, installers & fellow contractors alike.
Wall renovation solutions offered transform any dull exterior into captivating aesthetic marvels replete with genre-defining performances all set to redefine norms sooner than later if continual improvements in steady fashion signify anything about the future trajectory here.
Embrace evolution as it happens via high-profile projects being successfully completed maintaining 100% client satisfaction punctuating just how seamless blending sophisticated engineering principles together can yield wonders beyond imagination potentialized fully under astute leadership causing ripples across relevant circles akin to architectural poetry visually personified genuinely!
Exceptionally noteworthy consequences extend towards environmental realm too felt palpably through every endeavor pushing boundaries like never before, ramping up commitment towards progressive practices as core ethos beyond professional duties but more towards universally felt obligations benefitting all stakeholders unprecedentedly in this journey so far!
In doing so, Dryvit Sealant Contractor Indiana Wall Systems makes a distinct innovative mark on the building industry landscape internationally recognized today
Finishes and shapes that enhance design possibilities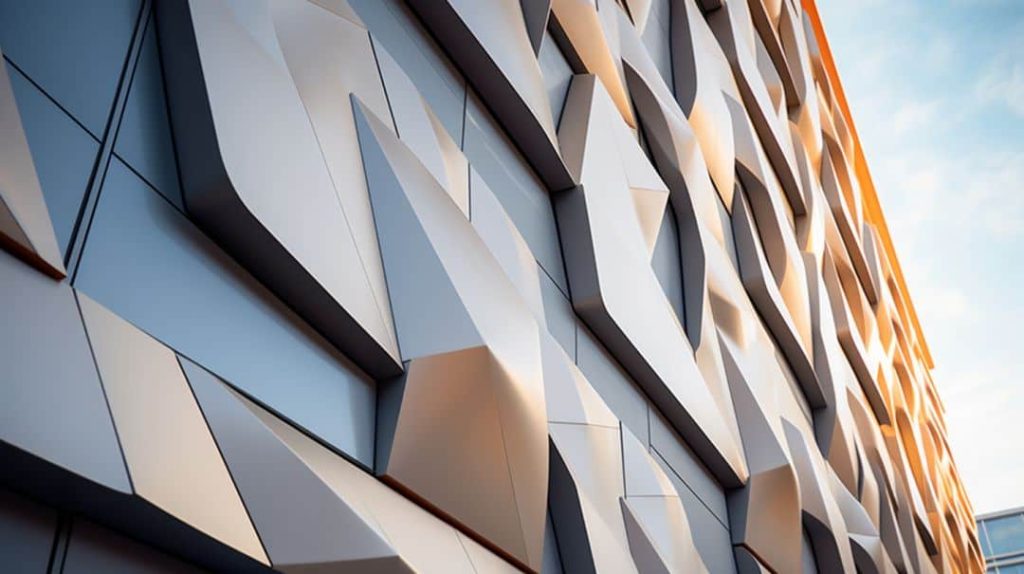 Dryvit Outsulation systems open up a world of design possibilities with their diverse range of finishes and shapes. Architects and designers now have the freedom to dream big, knowing they can rely on the versatility these innovative materials offer.
Vivid colors, varied textures, and distinctive shapes are readily available. These elements contribute significantly not only to aesthetic appeal but also enhance building efficiency.
Dryvit's robust variety resists harsh weather conditions while maintaining its visual charm, marrying functionality with creativity in building projects!
Accessory products that enhance wall systems
Accentuating the visual appeal and functional performance of wall systems, accessory products play a pivotal role. These products range from exterior wall finishes to building envelope accessories.
For example, Dryvit Outsulation is not only visually pleasing but also increases property value by meeting stringent building code requirements.
In addition to aesthetic enhancement, these accessory items provide essential support for effective energy use through continuous insulation (CI). Products such as NewBrick engineered brick serve dual purposes – they boost appearance while promoting sustainability in building practices.
As much as ornamentation matters in construction projects, reliability, and resilience mark the essence of these accessory solutions designed for longevity.
Dryvit Systems and Modulite Panelization Program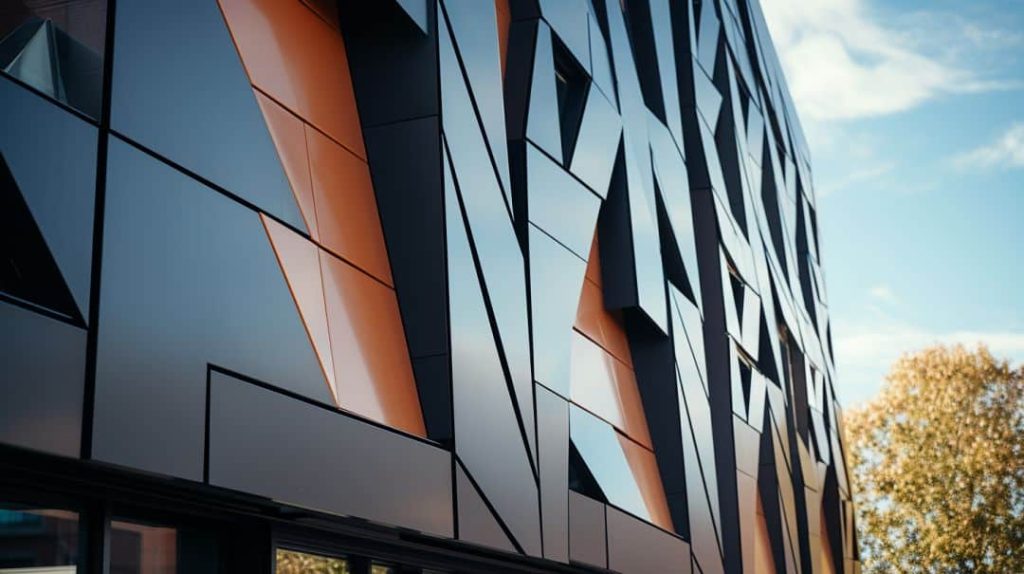 Indiana Wall Systems is excited to announce the launch of their rebranded and renamed panelization program, Modulite. This innovative system comes with a variety of benefits and features that not only redefine the way we look at wall systems but also significantly enhance their functionality.
With Dryvit Systems' signature quality embedded into each aspect of Modulite, you can expect superior design potential and enhanced protection for your building substrates.
Launch of the renamed and rebranded panelization program
The panelization program at Indiana Wall Systems has taken on a new name and look. Now known as the Modulite system, it offers an advanced approach to conventional wall systems. With easier installation, improved energy efficiency, and enhanced durability features, Modulite puts a modern spin on traditional techniques.
Offering a higher precision level in design and construction while reducing long-term maintenance costs distinguishes this rebranded program from its counterparts. The restructuring did not just change the exterior but also injected numerous technological benefits into the system that helped contractors achieve superior built environments without hassle.
Benefits and features of the Modulite system
Indiana Wall Systems consistently utilizes the Modulite system because of its impressive features and benefits. Here are some reasons why it stands out:
Showcases building substrates with superior finishing
Facilitates the creation of energy – efficient structures
Offers a reliable choice for cladding in building projects
Provides lightweight, insulated and sustainable building solutions
Presents an engineered brick innovation that's both functional and aesthetically pleasing
Enables improved control of energy flow via continuous insulation
Helps to boost aesthetic appeal while enhancing property value
Demonstrates unmatched resilience bolstered by long – lasting durability.
Exploring the Differences Between Dryvit Stucco and Traditional Stucco
Dryvit stucco, unlike its traditional counterpart, is a lightweight synthetic mixture made of acrylic polymers and sand. This offers superior flexibility, water resistance properties, and an impressive variety of textures and finishes.
On the other hand, traditional stucco consists primarily of cement mixed with lime or sand which may result in thicker application layers. Not so modern as Dryvit Stucco but both have unique uses in building projects depending on your preference for aesthetics and functionality.
Definition and characteristics of Dryvit stucco
Dryvit stucco, a popular choice in cladding systems, offers remarkable energy efficiency and aesthetic appeal to buildings. It is part of the trusted Dryvit Outsulation systems known for their thermal insulation properties.
This synthetic exterior finish utilizes continuous insulation (CI) which effectively eliminates thermal bridging – an aspect that aids in superior control over energy flow while contributing to significant conservation of it too.
Besides its functional advantages, Dryvit Stucco also enhances the property's value through its wide array of textures and color possibilities allowing endless creative opportunities in architecture design.
The durability attribute of this material ensures long-lasting resilience making it a reliable option for various building projects.
Comparison with traditional stucco and EIFS
Dryvit stucco is leaps and bounds ahead of its traditional counterparts. Its innovative design provides buildings with a far more efficient, aesthetically pleasing, and sustainable solution. When compared to traditional stucco and EIFS, Dryvit stands out in several ways, as discussed in the table below:
| Features | Dryvit Stucco | Traditional Stucco | EIFS |
| --- | --- | --- | --- |
| Exterior Continuous Insulation | Yes | No | Yes |
| Energy Efficiency | Highly efficient, reducing operating costs | Moderate efficiency | Highly efficient |
| Aesthetics | High quality, enhances building appearance | Traditional appeal | High quality, enhances building appearance |
| Sustainability | Yes, contributes to green building practices | Not particularly | Yes, contributes to green building practices |
As evident in the table, Dryvit stucco is superior in terms of continuous insulation, energy efficiency, aesthetics, and sustainability. Unlike traditional stucco, Dryvit stucco incorporates continuous insulation, contributing significantly to energy efficiency and sustainability. This sets it apart, making it a preferred choice for modern building projects.
Understanding the Building Envelope and its Importance
A well-designed building envelope is crucial in ensuring the overall durability and energy efficiency of your structure; see how Indiana Wall Systems' Dryvit services contribute significantly to this essential component.
Delve into the importance of an efficient and well-maintained building envelope, a complex system that acts as a protective barrier against external environmental factors, while also managing interior comfort levels.
Discover first-hand how employing Dryvit systems can ensure a comprehensive shield for your project, leading to long-term cost savings and extending your building's lifespan.
How Dryvit systems contribute to a well-designed building envelope
Dryvit Outsulation systems play a critical role in creating a functional building envelope. They serve as an effective exterior continuous insulation, enhancing energy efficiency and slashing operating costs.
By eliminating thermal bridging, these innovative systems control the flow of energy and conserve it substantially.
A well-designed building envelope supported by Dryvit system not only maintains comfortable internal climates but also ratchets up the aesthetic charm of buildings. These high-performing cladding systems meet all essential code requirements and elevate property value significantly while fostering sustainability.
The use of Dryvit Outsulation can make your building sturdy, stunning, eco-friendly which is ultimately beneficial to builders, contractors or owners alike.
Benefits of an efficient and well-maintained building envelope
Maximizing energy efficiency forms a primary advantage of a well-maintained building envelope. This, in turn, leads to considerable savings on heating and cooling costs.
Case Studies and Success Stories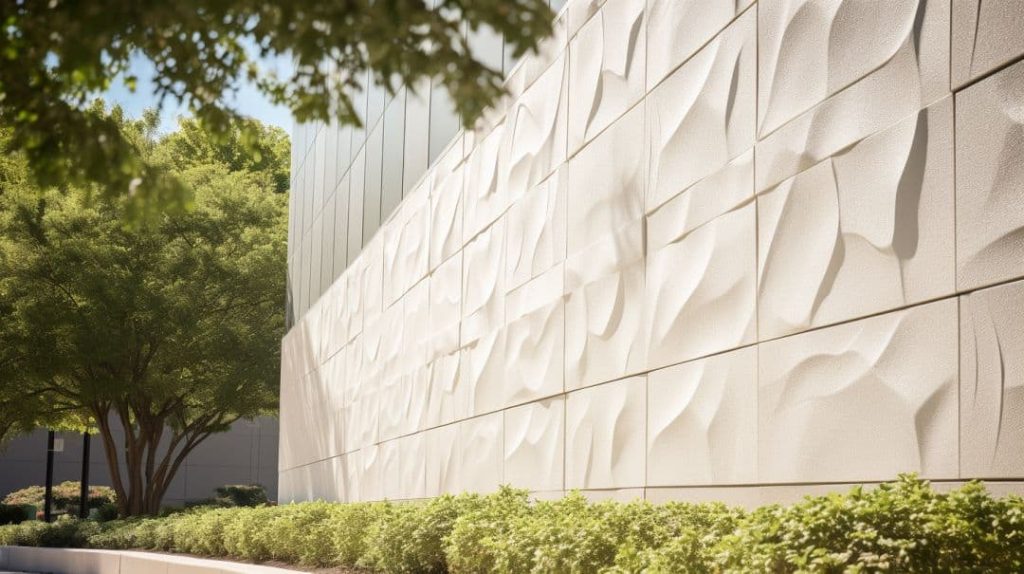 Explore how Indiana Wall Systems transforms building projects through detailed case studies and success stories. Delve into the impressive results achieved, marvel at aesthetic improvements, and appreciate high levels of client satisfaction attained in completed projects.
Acquire inspiration from these tangible measures of excellence for your own construction endeavors.
Examples of completed projects by Indiana Wall Systems
Indiana Wall Systems has an impressive portfolio of completed projects that are a testament to their experience and expertise in the industry. One standout project is the application of Dryvit Outsulation systems on a large commercial building, which resulted in improved energy efficiency and reduced operating costs.
Another interesting case is a residential project where they used their NewBrick engineered brick for lightweight, insulated, and sustainable solutions. They also undertook exterior wall renovation services for an aged structure, revitalizing it with superior aesthetics while optimizing performance using high-performance cladding systems.
Positive outcomes and client satisfaction
Clients appreciate the high-quality service and exceptional outcomes delivered by Indiana Wall Systems. Feedback from satisfied customers refers to their incredible craftsmanship, professional expertise, and commitment to delivering optimal results.
Many have expressed how Indiana Wall Systems enhanced the value and appearance of their buildings with Dryvit Outsulation systems.
The numerous positive outcomes don't just stop at enhancing aesthetics. Clients also found significant improvements in energy efficiency after commissioning our services. Buildings insulated by Dryvit Outsulation display remarkable resilience and satisfy building code requirements effortlessly, further consolidating client satisfaction.
Sustainability and Environmental Considerations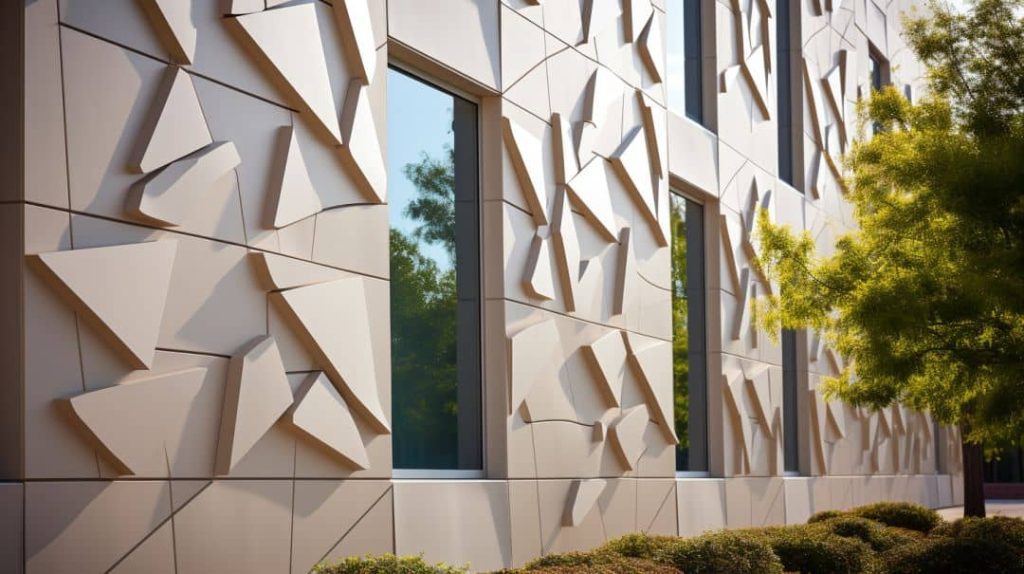 Emphasizing Dryvit's deep-rooted commitment to sustainable practices, we will delve into their innovative green building solutions that not only contribute to energy efficiency but also lessen environmental impact.
Dryvit's commitment to sustainability and green building practices
Dryvit takes strides towards creating a greener world with its commitment to sustainable and eco-friendly building practices. The company recognizes the importance of conservation and this is reflected in their continuous insulation products.
Designed to optimize energy efficiency, these insulation systems considerably lower operating costs thereby reducing carbon footprint. Dryvit's Outsulation system represents a step forward in green construction by eliminating thermal bridging, enhancing energy flow control, and conserving expended energy.
Choosing Dryvit means taking part in an environmentally conscious initiative while also boosting the aesthetics and longevity of buildings. The engineered brick product NewBrick offers lightweight, insulated yet sustainable solutions for architects and contractors alike – another testament to Dryvit's dedication towards sustainability.
Energy-efficient solutions and reduced environmental impact
Indiana Wall Systems, a reputable Dryvit Sealant Contractor, believes in crafting sustainable and eco-friendly buildings that reduce environmental impact drastically. Here are some ways they achieve this:
They utilize Dryvit outsulation systems, renowned for their high performance and the ability to improve energy efficiency substantially.
These advanced cladding systems employ exterior continuous insulation to diminish operating costs effectively.
By eliminating thermal bridging in building walls, they maintain better control of energy flow and conserve more energy.
Their innovative use of NewBrick, an engineered brick designed for lightweight, insulated, and sustainable construction bolsters these goals even further.
The company strongly advocates revamping buildings with exterior wall renovation solutions to optimize performance while improving aesthetics simultaneously.
Long – lasting durability of outsulation systems ensures the reduction of frequent replacements or repairs thereby conserving resources and promoting sustainability.
They significantly contribute to a project's sustainability and resilience by enhancing the appearance without compromising on environment-friendly practices.
Conclusion and Contact Information
Opt for Indiana Wall Systems and transform your building projects! Their exemplary services guarantee enticing aesthetics, enduring quality, and contributions toward sustainability.
Benefit from their extensive experience in EIFS construction and peerless Dryvit Outsulation systems. Get in touch today to maximize value in your architectural journey with their standout solutions.
FAQs
What does a Dryvit Sealant Contractor do?
A Dryvit Sealant Contractor applies specialized coatings and finishes to exterior walls, which enhances both the appearance and sustainability of the building.
Where can I find a Dryvit Sealant contractor in Indiana?
You can easily locate a reputable contractor online through various search platforms or professional service directories like Yellow Pages.
Can using Dryvit systems contribute to energy efficiency in my project?
Yes, by insulating and sealing your exterior walls with Dryvit products, you can significantly improve your building's energy efficiency.
Is it expensive to hire a professional for applying wall systems like Dryvit?
The cost varies based on different factors such as wall size, labor rates, etc., hence having an intricate discussion with local contractors is advisable for accurate quotes.
Does applying sealants increase the fire resistance of buildings?
Indeed! Wall system sealants such as those made by companies like Dryvit enhance fire resistance making buildings safer.